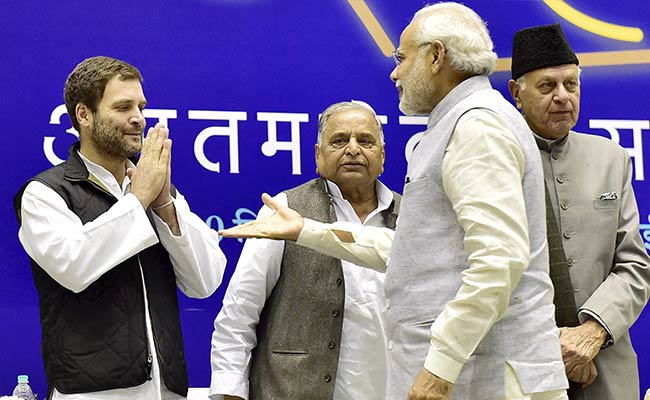 New Delhi:
Amid talks of simultaneous polls, the Congress has dared Prime Minister Narendra Modi to dissolve the Lok Sabha early and announce general elections along with polls in four states where the terms of the assemblies end this year.
Congress general secretary Ashok Gehlot today said postponing the upcoming state assembly elections and conducting these with Lok Sabha polls in 2019 is "not possible" under the Constitution or the law.
He said elections in Mizoram, Rajasthan, Chhattisgarh and Madhya Pradesh will have to be conducted before the terms of these assemblies end.
"There is only one way of holding simultaneous elections. The prime minister should dissolve the Lok Sabha and hold polls along with the four state assembly elections," Mr Gehlot told a press conference.
"The Congress will welcome it. We are prepared," he said.
Mr Gehlot's comments come a day after BJP president Amit Shah made a pitch for holding elections to 12 state assemblies including the present four along with 2019 Lok Sabha polls.
The former Rajasthan chief minister said it will be in the "best interest of the country to dissolve the Lok Sabha early, given the all-pervasive atmosphere of fear, intolerance and intimidation".
"The Congress will not only welcome an early Lok Sabha election, we are all geared to fight the BJP and eliminate it," he said.
The Congress alleged that the BJP's intentions behind the 'one nation, one election' debate were not clean.
"Their approach from day one has been wrong. If they were serious, they would have called all political parties for a meeting, discussed ways and means of implementing a proposal and debated solutions for cases where the Lok Sabha or state assemblies are dissolved before their term. But the government did not do any such thing," he said.
Mr Gehlot said the 'one nation, one election' slogan is just a gimmick to deflect attention of people from government's failures.
He also said the BJP was floating this idea because it fears the losing of upcoming state elections, in which case it will be in a very weak state to face the electorate in 2019 Lok Sabha elections.
Congress legal cell head Vivek Takha said the party will move court if the government attempts to postpone upcoming state assembly elections.
"This cannot be done without a constitutional amendment," he said.