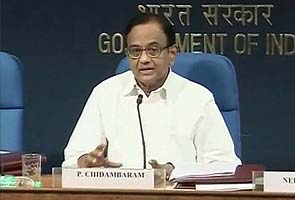 New Delhi:
Benefits under 29 welfare schemes being operated by different ministries would be transferred through Aadhaar-enabled bank accounts in 51 districts spread over 16 states from January 1 next year, Finance Minister P Chidambaram said here today.
The scheme of cash transfer into bank accounts, the Minister said, would enable the government to extend benefits to the needy at the click of a button without any fear of misuse or duplication.
"Roughly about 29 schemes are ready to start from the January 1. It is possible that one or two schemes may start a few days or a couple of weeks late. But ultimately we want to load all these schemes on the system. Out of the 42, we think about 29, give or take one or two, will be ready," Mr Chidambaram said while addressing a press conference at Congress office.
At present, government operates about 42 schemes, of which 29 would be covered by the cash transfer scheme that is to be launched from January 1, 2013 in 51 districts. The second roll-out to cover more districts would be launched in April 2013, he said.
The schemes which would come under the purview of the cash transfer scheme would include those of Ministry of Social Justice and Empowerment, Human Resources Development (HRD) Minority Welfare, Women and Child Development, Health and Family and Labour and Employment.
With the introduction of the direct cash transfer scheme, Mr Chidambaram said, "falsification and duplication will be practically eliminated and I believe that (it) would result in considerable savings to the exchequer."
Prime Minister Manmohan Singh yesterday had directed all the ministries concerned to work in close coordination to ensure success of the scheme.
Mr Chidambaram said in the later phase the benefits of the direct cash transfer would be made available for subsidies which are given for food, fertiliser and petroleum products.
The cash subsidy, he said, would be given to the beneficiaries having Aadhaar-enabled account number through the bank branches or banking correspondents.
Aadhaar, a 12-digit number, serves as a proof of identity and address anywhere in the country. The UIDAI has already issued 21 crore Aadhaar cards.
"To start with there will be Banking Correspondents with miniature ATMs ... they will act as the bank account operator with a handheld ATM to enable the beneficiary to withdraw the cash benefit.
"But in course of time other distributors can also join the system. Self Help Groups, primary Cooperative society, any other body which can operate a hand-held ATM can be a distributor. We expect multiple distributors to open as many distribution points as possible over a period of time," he added.
Mr Chidambaram said he expects that in the 51 districts Aadhaar penetration would be 80 per cent and the list of digitised beneficiaries for the schemes would be loaded on to the system.
"If the Aadhaar penetration is 80 per cent and more, then it is a fair assumption that the beneficiary penetration of Aadhaar will be close to 95 per cent. We hope to be able to do that by December 31. The infrastructure is in place," he said.