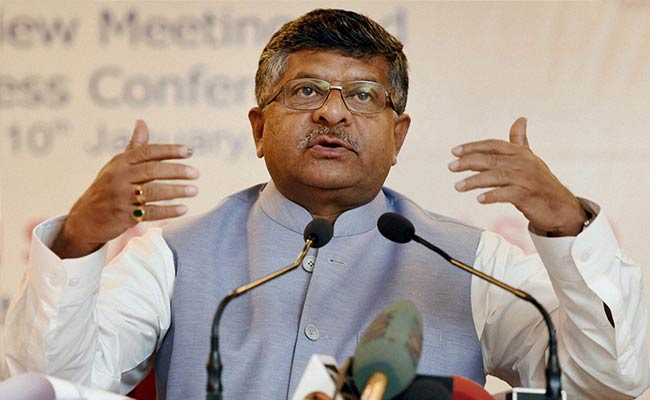 Mumbai:
Communications and Information Technology Minister Ravi Shankar Prasad today said the Digital India initiative will transform the country into a digital society and a knowledge economy.
With the demand for electronic hardware expected to rise rapidly to $400 billion by 2020, India has the potential to become an electronic manufacturing hub.
The central government has taken many initiatives to promote electronics hardware manufacturing and its policy on the same has received an encourage response, he said.
Mr Prasad was speaking at a seminar on electronics and information technology as part of the ongoing Make In India Week.
With a view to make India a manufacturing hub for mobile handsets, Mr Prasad said the differential excise duty dispensation will promote indigenous manufacture of mobile phones.
"The government is targeting to achieve net zero imports of electronics by 2020 by creating a level playing field and providing an enabling environment," Mr Prasad said.
He said electronics has immense strategic importance even in defence and security applications besides delivering essential services.
Inviting global firms to invest in India's electronics manufacturing sector, he pointed out that a robust policy system was in place in the country to enable this.
Later, Mr Prasad also launched the Electronics Development Fund (EDF), formulated as a 'Fund of Funds' to participate in 'Daughter Funds' which will provide risk capital to companies new technologies in electronics, nano-electronics and IT.
The EDF is housed by CANBANK Venture Capital Fund, and the 'Daughter Funds' will promote innovation, research and development and product development within India in specified fields of electronics, nano-electronics and IT.
While the core focus would be to develop domestic design capabilities, it will also support acquisition of foreign companies and technologies for products imported in India in large volumes.
The EDF will enrich the intellectual property in the country and also encourage more entrepreneurs towards product and technology development.