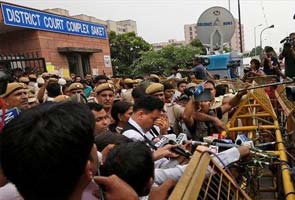 New Delhi:
All four men convicted of raping and murdering a 23-year-old student on a moving bus in Delhi were sentenced to death on Friday by a judge who said their crime "has shocked the collective conscience of society."
In a slum in South Delhi, Devi, the mother of one of the convicts fainted after she heard that her son would be hanged, reports news agency IANS.
"My son will die soon," Champa Devi said to reporters.
Before the sentence was announced, she said her son, Vinay Sharma, 20, and fellow convict Pawan Gupta were "good boys".
"They are hard workers. Not one complaint against them," she said.
Vinay Sharma was working in a gym at the time of the crime and is the only one of the convicts to have completed schooling
"The judge should give them a second chance to reform themselves. Even God gives every person a second chance," Champa Devi said on Thursday afternoon.
The horrific contours of the crime - the 23-year-old student was violated with an iron rod, raped for 45 minutes and then thrown from the bus with her male friend - drove massive street protests, forcing the government to overhaul archaic laws to punish crimes against women.
Two weeks after the attack, the student died of her injuries.
Six men were arrested within days of the gang-rape on December 16. The alleged gang leader was found hanging in his cell in March. Another, a juvenile, was sentenced last month to three years in a reform centre.
The four others, including Vinay Sharma, were convicted on Tuesday by a fast-track court, which said the men had committed the "murder of a helpless person."