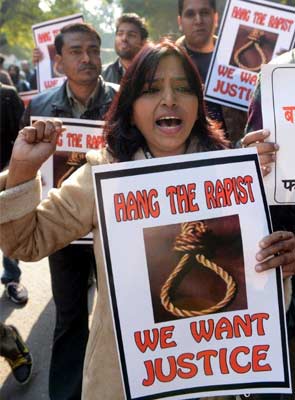 New Delhi:
One of the six men arrested after the gang rape of a student on a Delhi bus has been accepted as a juvenile offender, a decision that has upset the student's family, and rejects a police attempt to run a bone test on the suspect to determine his age.
The Juvenile Justice Board accepted as authentic a school certificate that declares his age is 17 years and six months. The police gas described him as "an equal participant in the crime" in its report submitted to the Juvenile Board.
But because he has been recognised as under-18, he will be tried separately from the five other men, who are accused of gang-rape and murder, and faces a maximum sentence of three years in a reform facility.
If convicted, the other five men who are being tried at a special fast-track court in Delhi could face the death penalty. One of these men, Vinay Sharma, a gym instructor, had also claimed that he too is under-18. His lawyer today told the media his client's application seeking a bone ossification test has been rejected by the fast-track court.
"We had asked Vinay should also be treated as a juvenile. His real date of birth is March 1, 1995. That application was rejected. We had asked a bone ossification test should be done on Vinay. We will now go to the High Court with our application," advocate AP Singh said today.
The brother of the girl who was raped and murdered shared his family's dissatisfaction with the verdict of the Juvenile Board.
He said the man accepted as a teenager had persuaded the student and her boyfriend to board a bus by promising them it was headed in the direction of her home.
"We are feeling really bad. We want all six accused hanged," he said.
The vehicle was actually a school bus which had been taken out for a spin by the off-duty driver and five of his friends. They pretended they were running the sort of charter bus that is an integral part of public transport in Delhi.
The police says the student and her boyfriend were hit savagely by the six men who soon took turns raping Amanat (NOT her real name).
The police says the teen offender was the most depraved, raping the student twice, once when she was unconscious.
The magnitude of the assault shook the country, triggering fiery protests demanding better policing for women and a review of laws that deal with sexual offenders.