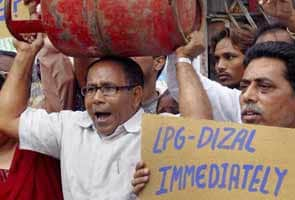 New Delhi:
Defence Minister AK Antony, who hails from Kerala and has been the Chief Minister of the state on three occasions, cancelled his visit to the state to avoid being embarrassed by local protests against the increase in diesel prices. The Congress leads the UDF government in Kerala; Chief Minister Omen Chandy who is from the party has asked for a partial rollback.
Last evening, the government announced a Rs 5 or 12% hike in the price of diesel and said each household will now be entitled to a maximum of six subsidised LPG cylinders. The politically tough move has been attacked by allies like Mamata Banerjee and the DMK. C Rangarajan, Chairman of the Prime Minister's Economic Advisory Council, said an increase in diesel prices in India should avert a credit rating downgrade for the country.
After an official stop in Kochi, the Defence Minister was scheduled to travel to the Maldives - he will now fly there directly.
Sources have told NDTV that Mr Antony was suggested alternative routes to the venue.
In Kerala, opposition Left parties and the BJP have called a bandh or strike on Saturday against the new diesel prices. The LDF and BJP have given separate calls for Left leaders and said the hike has amounted to a "declaration of war on people."
Associations of bus and truck operators say they must be allowed to increase fares accordingly.
(With inputs from Reuters)