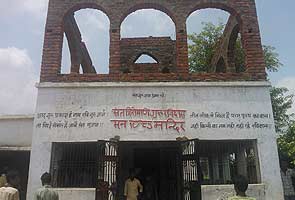 Rohtas:
On India's 67th Independence Day, while Bihar Chief Minister Nitish Kumar was talking about inclusive growth and social equality at a village close to Patna, a different script played out at the Baddi village in Rohtas district, 160 km from the state capital.
A Dalit man was beaten to death and at least 12 others, including old women and children, severely injured as upper castes in the village allegedly attacked them for trying to hoist the national flag outside a temple belonging to the community.
80-year-old Ram Vilas was at the temple with his four sons when about 300 upper caste men attacked. While the sons managed to flee, Ram Vilas was beaten to death with stones and sticks.
Their crime: the temple land in question, at the entry of the village, is where the upper castes wanted a memorial to a freedom fighter born in the same village.
The Dalits in the village allege at least 10 policemen present at the site looked the other way while they were attacked with stones, sticks and even guns. The police station in-charge of the area has been suspended while a dozen people have been arrested.
The upper caste villagers rubbish the allegations, saying they only retaliated while the violence was started by the Dalits. On being asked why so many Dalits were injured, they had no answer.
The deceased Ram Vilas's young son says, "Nothing has changed in Nitish Kumar's Bihar. If it had, the attack wouldn't have happened."
Mr Kumar's Janata Dal United or JD-U, as part of its popular social engineering in Bihar, coined the term 'Mahadalits' for the poorest and the most marginalized among the Dalits.
Lok Sabha speaker Meira Kumar, who visited the injured at a hospital in Sasaram, the district headquarters of Rohtas, called the attack "unacceptable" and asked for strong legal action against the guilty. Ms Kumar, who represents Sasaram in Parliament, also asked the society to introspect on caste issues.