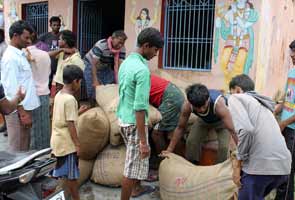 Bhubaneswar:
The Odisha government said on Friday it will complete relief operations in the areas hit by Cyclone Phailin and subsequent floods in the next few days.
"Water has receded in all flood affected areas and most of the people who took shelter in the relief centres have returned to their homes, the state's special relief commissioner P.K.Mohapatra told IANS.
"We will complete the relief operations by October 22", he added.
Cyclone Phailin had made landfall on Saturday night near Gopalpur in Ganjam district in the state and left a trail of destruction, bringing heavy rain and causing floods.
Relief and restoration work continues in the districts worst affected by it including, Ganjam, Puri, Gajapati and Khurda. Floods have ravaged vast tracts in Balasore, Bhadrak, Keonjhar, Mayurbhanj and Jajpur districts.
While relief operations in most of the areas will be over in the next two days, they will be completed in the worst-hit Ganjam district by Tuesday, Mr Mohapatra said.
Around 43 people have died in the disaster so far. About 1.2 crore people in 17 districts of the state have been affected by the cyclone and subsequent floods, according to government data.
The main focus will now be on restoration and rehabilitation. Steps are also being taken to restore electricity, telephone services and water supply in the affected areas, the official said.