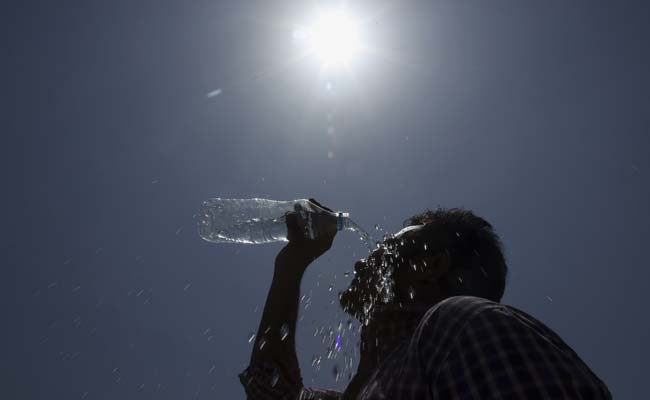 New Delhi:
As a major part of the country has virtually turned into a cauldron, Sunday became the hottest day of the season for many cities where mercury touched the deadly 47-48 degrees Celsius mark. Delhi, which has remained in the tight grip of intense heat, saw the average maximum shooting up to 44.6 degrees -- four notches above normal. While the minimum was 30.4 degrees, three notches above the season's average. Though the mercury is expected to drop a few notches today in the national capital, respite is likely tomorrow in the form of thunderstorm and rain.
Here are 10 points on how many Indian cities are grappling with blistering heat:
The maximum temperature in Delhi's Ridge area and Ayanagar crossed 46 degrees while Palam was the hottest at 47 degrees that qualifies for heat-wave conditions. The maximum in Gurugram and Faridabad was 44.6 degrees, according to the India Meteorological Department (IMD).

Several places, including hill stations in Himachal Pradesh recorded highest temperatures of the season. Heat intensified in the lower hills and Una was the hottest place at 44.8 degrees Celsius. Shimla, too, experienced its hottest day of the season with the mercury breaching the 30 degree-mark.

The heat wave engulfed a major part of Rajasthan, including state capital Jaipur, Sawai Madhopur, Bikaner, Jaisalmer and Jodhpur. Sri Ganganagar was the hottest at 47.1 degrees Celsius followed by Churu at 46.7 degrees Celsius, Kota at 45.2 degrees Celsius and Bikaner at 45 degrees Celsius.

Blistering heat continued in many parts of Punjab with Bathinda recording a maximum of 48 degrees Celsius. It was closely followed by Amritsar which recorded 47.5 degrees Celsius. Chandigarh registered the hottest day of the season at 45 degrees Celsius. It was also the highest maximum recorded in the union territory in the last five years.

In Haryana, Hisar sweltered at 46.6 degrees Celsius while Ambala sizzled at 45.1 degrees Celsius. Narnaul's highest settled at 44.5 degrees Celsius.

In Uttar Pradesh, Banda was the hottest registering a high of 48 degrees Celsius. Jhansi at 46.6 degrees Celsius was followed by Varanasi 46.5 degrees Celsius, Orai 46 degrees Celsius, Sultanpur 45.8 degrees Celsius and Agra 45.7 degrees Celsius.

Angul in Odisha saw the highest maximum of 44.7 degrees Celsius. Titlagarh recorded a high of 44.5 degree Celsius, while the mercury stood at 44.3 degrees Celsius in Jharsuguda, 44 degrees Celsius at Hirakud and 43 degrees Celsius in Balangir.

Bihar too experienced hot and dry weather with the mercury setting at 46.1 degrees Celsius in Gaya. There would be no respite from scorching sun as Met forecasts that Gaya's maximum temperature may hover around 45 degrees Celsius.

At 45.1 degrees Celsius, the Jammu city recorded its highest temperature this season. "It was the highest temperature recorded this season so far," a Met official said.The authorities have closed the schools here for summer vacations.

After a heavy downpour, temperatures in Uttarakhand are on the rise again. Dehradun, Roorkie and Pantnagar are simmering under heatwave like condition. On Sunday, Dehradun recorded a maximum of 39.8 degrees Celsius while Pantnagar sizzled at 40 degrees Celsius. The weathermen said the mercury may climb a few notches in the days ahead.
(With inputs from agencies)