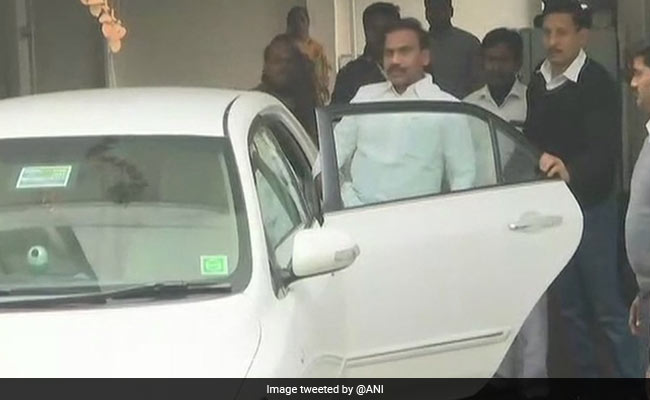 New Delhi: Former telecom minister A Raja, DMK leader Kanimozhi and all other accused acquitted in 2G case The verdict was delayed as hundreds of supporters of A Raja from his hometown Nilgiris in Tamil Nadu have arrived at a Delhi court, causing security problems. The courtroom had to be cordoned off with ropes and a metal detector was heard cracking because of the crush of people trying to gain entry. Mr Raja is accused of allocating airwaves and licenses for cellphone networks in exchange for kickbacks and causing the state a loss of Rs 1.76 lakh crore. The Supreme Court earlier agreed that the process Mr Raja followed was polluted and cancelled all the licenses he had issued.
Here are top 10 developments in this big story:
The Telecom scam, said to be the biggest in Independent India, was exposed in 2010 when the national auditor said that in 2007-2008, second generation or 2G licences had been given to telecom operators at throwaway prices without a free and fair bidding process.
A Raja, who was from the DMK, a Tamil Nadu-based regional party, has denied issuing out-of-turn licences at below market prices. He has said then Prime Minister Manmohan Singh had been apprised of every decision and these were based on inputs from the Department of Telecom, other Cabinet Ministers and the then Solicitor General.
Mr Raja stepped down in 2010 after the auditor's report and was arrested in 2011.He was accused of cheating, forgery and conspiracy. The chargesheet also said he misled Manmohan Singh.
Mr Raja spent nearly a year in jail before being released on bail.
Along with Mr Raja, several other politicians and executives of some of the top telecom companies, including the one owned by Anil Ambani's conglomerate, are named in the case.
The Central Bureau of Investigation said a Rs.200-crore bribe paid by a telecom company to Mr Raja was deposited in the account of a Chennai-based television channel, partly owned by Ms Kanimozhi. She has denied any wrongdoing.
The verdict was expected on November 7, but the judge said he needed more time to write up his decision. Earlier this year, the same judge, OP Saini, had acquitted Dayanidhi Maran, Mr Raja's predecessor who was also accused of corruption during his term.
Mr Maran had been accused by the CBI of misusing his office to force the sale of mobile carrier Aircel to an entrepreneur in Malaysia in exchange for a bribe that was disguised as an investment of 200 crores in a media empire owned by the minister's brother.
On November 5, Prime Minister Narendra Modi visited ailing DMK chief M Karunanidhi at his home in Chennai. The timing of the visit triggered speculation on whether the BJP, which has been trying to expand its presence in Tamil Nadu, was considering the DMK as an option to partner with.
The 2G scam was among the major corruption scandals that came to light during the second term of the UPA government headed by Dr Manmohan Singh. It provided fuel to the opposition charges of corruption against the government.