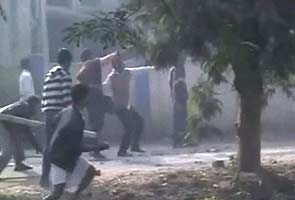 Hooghly, West Bengal:
Police in West Bengal's Dhanekhali village lathigcharged and tear gassed villagers and Trinamool Congress (TMC) supporters who gheraoed the police station today, to protest the death of a party worker, allegedly because of police torture.
On Friday, the police had detained Kazi Nasiruddin, who was a TMC supporter, in this village in Hooghly district, after an argument over allegedly invalid documents for a car in the victim's possession.
When locals went looking for Mr Nasiruddin at the Dhanekhali police station in the evening, they claim they saw him lying unclothed on the floor. They also claim the police had beaten him to death. The police, however, say that he had fallen sick and was rushed to hospital, where doctors declared him dead.
"We have received a first information report about the death of Kazi Nasiruddin during his custody under the Dhanekhali police station and have initiated an investigation as per the guidelines of Human Rights Commission in this regard," said Hooghly's Superintendent of Police Tanmay Roychaudhury.
Early Saturday morning, villagers surrounded the police station and started pelting stones at the building. Police lathicharged the mob, and used teargas shells to disperse the mob, and locked the gates of the police station. The wife of the victim arrived at the spot and has filed a complaint, demanding a Central Bureau of Investigation inquiry into the death of her husband.
The Congress called the death a "pre-planned murder" which was rubbished by the Trinamool.
"Nasiruddin was disenchanted with Trinamool and was thinking of quitting it. He has been killed in pre-planned manner by his own party men," Congress leader Abdul Mannan said.
Rubbishing Mannan's claim, and giving the police a clean chit, local Trinamool legislator Ashima Patra said the death was due to "natural causes and police had no hand in his death".