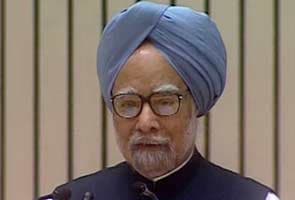 New Delhi:
Under attack from some states on the NCTC issue, Prime Minister Manmohan Singh today said consensus-building was the only way forward and vices like terrorism need to be tackled together by the Centre and states.
"Well, we are trying. Consensus-building is the only way forward in a country as diverse and complex as ours," Singh told reporters when asked on the controversy surrounding the issues like NCTC and the criticism of the Centre by some Chief Ministers.
Singh was speaking to reporters on the sidelines of a defence investiture ceremony at the Rashtrapati Bhawan.
"The Centre and states have to work together. We are not on different sides. We are on the same side. Terrorism and extremism are vices which we have to combat together," Singh said.
Non-Congress Chief Ministers and Trinamool Congress, an UPA ally of Congress, came together yesterday to oppose the controversial NCTC alleging it encroached on states' powers.
The issue of federalism had cast its shadow over a conference of Chief Ministers on internal security here yesterday.