Highlights
At Jan Aakrosh Rally, Rahul Gandhi launched an attack at BJP government
He said people were not happy with the government at the centre
He also talked about farmer issues and women's safety
New Delhi:
Congress chief Rahul Gandhi launched a blistering attack on Prime Minister Narendra Modi, predicted the party's victory in the coming round of assembly elections and the next Lok Sabha elections, and gave an open invitation to all to join his party at a rally in Delhi today.
Attended by thousands, the "
Jan Aakrosh (people's wrath)" rally
at Ram Lila Maidan, outside the iconic Red Fort, was seen as a platform to flag off the party campaign for the 2019 general elections. It was attended by a battery of Congress leaders, including Sonia Gandhi, Rahul Gandhi's mother and the party's former chief, former Prime Minister Manmohan Singh, present and former Chief Ministers and state leaders like Captain Amarinder Singh, Sheila Dikshit and Harish Rawat.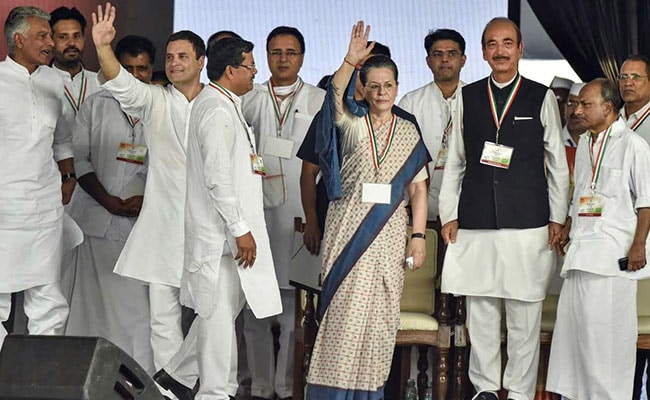 The Congress, Mr Gandhi told the sea of supporters, will emerge victorious in Karnataka, Rajasthan, Madhya Pradesh assembly polls and the 2019 general elections. This, he said, was because the party, over the last 70 years, has worked to unite all sections of society and spread love. The BJP and the RSS, instead, have spread hatred.
Hailing the party workers as "
sher ke bachhe
(lion cubs)", he said they have laid their lives for "truth and the country".
The 48-year-old Congress chief accused the government of weakening institutions, neglecting farmers and keeping silent on the key issues affecting the people. "The name of this rally is the 'Jan Aakrosh' rally. Wherever I go these days, I ask a simple question to the people - 'Are you happy'. And I get the same answer - 'No'."
The farmers, he said, were under stress, but their loans were not written off by the government, which was busy waiving debts of corporate houses, he said. "If the Congress party wasn't there, the farmers will not be able to survive a day. If the Congress didn't stand in his way, PM Modi would have taken every inch of farmland away from the farmers," he said.
He also accused PM Modi of not standing up to China during his
two-day visit for the informal summit with President Xi Jinping
. "His (the Prime Minister's) speeches are full of lies... Modi
ji
did not speak a single word on Doklam during his visit to China. What kind of prime minister is he?" Mr Gandhi added.
Sonia Gandhi, who attended a party rally after months, launched a sharp attack on the government, alleging that the
roots of corruption have become stronger in the NDA regime
. The Congress leader, who has reportedly been ailing for some time, accused the government of muzzling dissent, weakening institutions and dividing communities for electoral poll gains.
"Judiciary is passing through an unprecdented crisis. Media can't play is role, it is being stopped from doing so...It is a sensitive phase we need to take seriously...we will fight this on behalf of the people," she told the gathering.