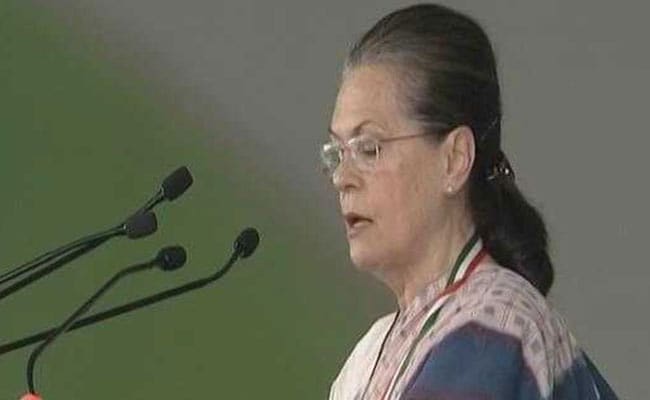 New Delhi:
Former Congress president Sonia Gandhi today attacked the Narendra Modi government at a mega rally led by the party in Delhi, saying the roots of corruption have become stronger under the BJP-led NDA regime.
She questioned PM Modi on his commitment to root out corruption. "
Modiji
had said '
na khaunga na khane dunga
' (Won't take bribes, Will not let others take bribes). But corruption has increased," she said at the rally in Delhi's Ramlila grounds.
Congress president Rahul Gandhi,
who led the
Jan Aakrosh rally
, launched a full scale attack on PM Modi and his government, questioning why the "
chowkidar
" was silent on corruption and weakening of institutions.
"The name of this rally is the 'Jan Aakrosh' rally. Wherever I go these days, I ask a simple question to the people - 'Are you happy'. And I get the same answer - 'No'," Mr Gandhi said.
Sonia Gandhi said the government with muzzling dissenting voices, weakening institutions and dividing communities eyeing electoral gains.
"Judiciary is passing through an unprecdented crisis. Media can't play is role, it is being stopped from doing so...It is a sensitive phase we need to take seriously...we will fight this on behalf of the people," she said at the rally, attended by thousands of Congress workers.
Top party leaders like former Prime Minister Manmohan Singh, Sachin Pilot, Salman Khurshid, Sheila Dikshit and Captain Amarinder Singh.
"The constitutional institutions are under threat in the current government. It is not good for the democracy. It is our duty to strengthen the democracy by strengthening the Congress party and supporting Rahul Gandhi in his mission," Manmohan Singh said.
(With inputs from PTI and ANI)