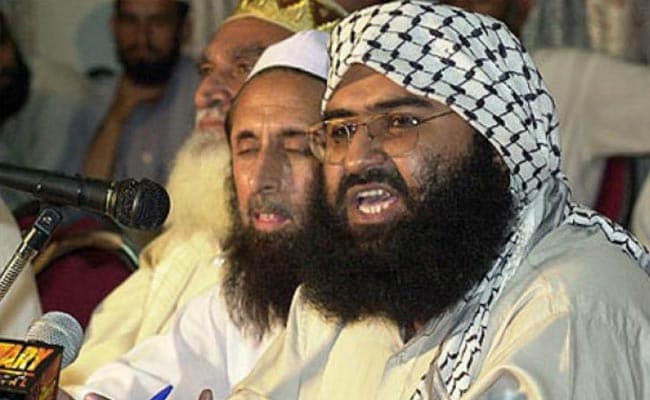 New Delhi:
China for the fourth time blocked a bid in the UN Security Council to designate Pakistan-based terror group Jaish-e-Mohammed's chief Masood Azhar as a "global terrorist" by putting a technical hold on the proposal on Wednesday, a move India termed as disappointing. The proposal to designate him under the 1267 Al Qaeda Sanctions Committee of the UN Security Council was moved by France, the UK and the US on February 27, days after a suicide bomber of the Jaish killed 40 CRPF soldiers in Jammu and Kashmir's Pulwama, leading to a flare-up in tensions between India and Pakistan. A diplomat said China asked for "more time to examine" the proposal. The technical hold is valid for up to six months and it can be again extended by up to three months. The proposal was the fourth such bid at the UN in the last 10 years to list Azhar as a global terrorist. Reacting to the development, the Ministry of External Affairs (MEA) in New Delhi expressed disappointment.
Here are the Highlights on China's move on Jaish chief Masood Azhar:
National Conference leader Omar Abdullah said the BJP cannot claim to have been tough on terror as Prime Minister Narendra Modi "surrendered" to China on Masood Azhar. He also said the NDA government had given Pakistan a "big victory" by not conducting the assembly elections in Jammu and Kashmir simultaneously with parliamentary polls. "PM Modi surrendered to China on Azhar and surrendered to Pakistan & its proxies by delaying elections in J&K. How can the BJP claim to have been tough on internal security and tough against terror?" Mr Abdullah, the vice-president of the National Conference, wrote on Twitter. He targeted Union minister Ravi Shankar Prasad over his remarks on Congress president Rahul Gandhi who had criticised the prime minister for being "scared" of Chinese President Xi Jinping. "Mantri jee, your Government gave Pakistan a small victory when you postponed the Anantnag by-poll in 2017 and a big victory now that you''ve failed to conduct assembly elections. If anyone is giving Pakistan a reason to celebrate it isn't @RahulGandhi. Look closer to home sir," the former chief minister said.
China today defended its technical block to the UN resolution to declare Masood Azhar a global terrorist, saying it would give more time to all parties to find a "lasting solution" acceptable to all. "Our action is to make sure that the committee will have enough time to study the matter so that the relevant sides will have time for dialogue and consultation," Chinese Foreign Ministry spokesman
Lu Kang was quoted as saying
by news agency Press Trust of India today. "Only a solution that is acceptable to all sides could fundamentally provide a chance for a lasting solution to the issue. China is ready to communicate and coordinate with all sides including India to properly handle this issue," he said. A strategic ally of Islamabad, Beijing had blocked the move to ban the Jaish-e Mohammed chief - who gets a free run in Pakistan -- thrice earlier over a 10-year period. The last ban in 2016 was also on technical grounds.
Former ambassador to China Gautam Bambawale told news agency ANI that India must continue to work with China to convince them to remove Beijing's block on the global terrorist tag for Jaish-e Mohammad chief Masood Azhar. "If China opposes terrorism, it must allow this listing to go ahead. So many countries, including France, UK, USA have backed the resolution. It is only one country China which is still objecting to it," he said.
Big,Small & Many...

1 big state holds up, again ...
1 small signal @UN against terror

Grateful to the many states - big & small - who in unprecedented numbers, joined as co-sponsors of the effort. 🙏🏽

- Syed Akbaruddin (@AkbaruddinIndia) 13 March 2019