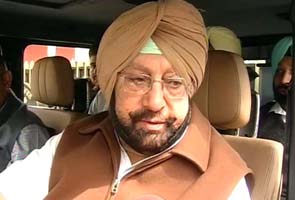 Shimla:
Campaigning just two days before the assembly polls in Himachal Pradesh, Punjab Congress President Amarinder Singh said yesterday that he was "101 per cent sure" that Congress would come to power in the state.
"It is evident from the mood of the people that Congress would certainly return to power in Himachal under the leadership of five-time Chief Minister Raja Virbhadra Singh," the former Punjab Chief Minister said in Shimla during the last leg of the campaign.
"BJP is running a mafia government. 21 out of 41 MLAs and six ministers are facing criminal charges. Corruption and mis-governance has halted all development," he alleged.
Assessing Congress' chances in Himachal, Mr Singh said, "We lost elections in Punjab due to some miss calculations as we had lot of independents. However, in Himachal, people have been facing serious problems. There has been no development in the state after Congress' rule... bad roads, innumerable problems faced by farmers, employees not being paid their dues.
"They (people) will oust the corrupt BJP government, I am 101 percent sure", he added.
The two-week-long election campaign for the Himachal Pradesh assembly elections ended yesterday and voting will take place on November 4.