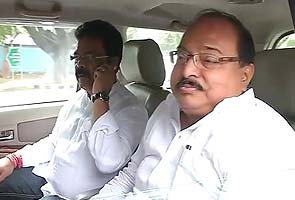 New Delhi:
The Congress is in the "final stage" of negotiations for an alliance that would allow it to form the government in Jharkhand, said the All India Congress Committee's General Secretary in-charge of Jharkhand B K Hariprasad to NDTV today.
The party plans to tie up with the Jharkhand Mukti Morcha (JMM) to prove it has the numbers to rule the state. The President's rule expires on July 17.
The agreement offers the post of the Chief Minister to Hemant Soren, the son of JMM chief Shibu Soren. In exchange, the JMM will reportedly allow the Congress to contest 9-10 of the 14 parliamentary seats from the state.
Congress president Sonia Gandhi met this morning with senior leaders from her party about the coalition.
Her party is likely to get five ministries in the government. Lalu Prasad Yadav of the Rashrtiya Janata Dal or RJD, will get two, said sources, in exchange for his support.
President's Rule was imposed in Jharkhand on January 18 following the resignation of Chief Minister Arjun Munda. That brought down the BJP and JMM coalition that had governed the state for about two years.
This will be the ninth government in the 12-year-old state. Jharkhand has seen eight governments and two stints of President's rule since 2000. The longest serving government lasted two-and-a-half years and the shortest, a bare 11 days.