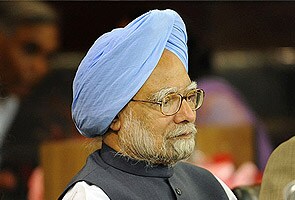 New Delhi:
The growing chorus over Lokpal Bill and battling corruption, it seems, has the Congress-led UPA worried. And a meeting of the Congress Core Group at the residence of Prime Minister Manmohan Singh signalled that.
Congress president Sonia Gandhi, and other senior congress leaders attended the party's core committee meeting at 7, Race Course Road, in New Delhi.
Sources say that the Core Group decided to call an all-party meeting on the Lokpal issue, especially to debate the provisions like should the Prime Minister be brought under the ambit of Lokpal or not.
The Core Committee held a meeting yesterday also on these and related issues.
In recent days, the Lokpal issue and the police crackdown on yoga guru Baba Ramdev's camp on the intervening night of June 4-5 have been like an albatross around the government's neck. It had to face a lot of criticism at the hands of the Opposition parties, especially the BJP.
The Core Group was also supposed to discuss the Telangana issue but sources said there was no discussion on Telangana.
In April, Jantar Mantar became the base camp for lakhs of Indians who supported Mr Hazare as he fasted for nearly a week.
Satellite protests in cities across India had stumped the government, which agreed to Mr Hazare's demands. He wanted a new law against corruption to be enacted, and he wanted activists who represent civil society to formally draft that law. After arguing that legislation was the prerogative of Parliament, the government gave in. Mr Hazare and four activists, including Mr Kejriwal, formed one half of the Lokpal Bill drafting committee; five senior ministers formed the other.
But of late, the movement has run into rough weather after an impasse between the two sides over drafting the bill. The activists slammed the government accusing it of turning the Lokpal Bill into a "Jokepal Bill." Mr Hazare has once again threatened to sit on a hunger strike.
On June 4, yoga icon Baba Ramdev whose followers run into lakhs started his fast in Delhi at the Ramlila Maidan. 65,000 people were in attendance when the police broke up the camp with teargassing and a lathicharge. The Baba was evicted and flown back to Uttarakhand.