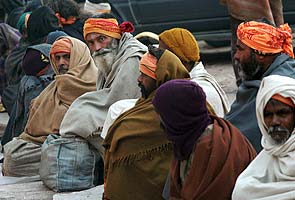 New Delhi:
At least 23 people lost their lives due to the cold wave in Uttar Pradesh and Uttarakhand even as temperature in parts of North India soared, a trend that weatherman said will persist.
People in the national capital on Thursday woke up to a pleasant morning as the minimum temperature rose more than a degree from Wednesday's to settle at 5.8 degrees Celsius.
Delhi has been witnessing cold wave conditions for the past one week with both minimum and maximum remaining five degrees below normal, but there has been a welcome respite since Wednesday.
"The temperature will rise in the coming days," the Met said.
However, in the plains of Uttar Pradesh, the biting cold wave conditions snuffed out 16 more lives during the last 24 hours as death toll due to the harsh weather touched 249 this winter.
Five persons died in Gorakhpur district which was the coldest place in the state on Wednesday, followed by four each in Farrukhabad and Barabanki, two in Sant Kabirnagar and one in Bijnore.
Met office said that Lucknow along with Najibabad in Bijnore were coldest in the state recording 0.5 (-6) degrees Celsius followed by Kheri with 1 degree C, Sultanpur 1.2 (-7) degree C and Gorakhpur 1.8 (-7) degree C.
In Uttarakhand, seven persons died due to the cold wave even as temperature soared in most parts of the hill state giving respite to people.
All the casualties were reported from Roorkee and Haridwar districts where icy northwesterly winds continued to blow amid dense fog.
Mercury rose marginally in most places with Dehradun recording a minimum of 3.5 deg C, Pantnagar 0.2 degree C, Mukteshwar 0.2 degree C, Tehri 1.0 Pithoragarh 2.3 and Nainital 4.0 degree C, the MeT office said.
"The rising temperature at most places shows that the downtrend has finally come to an end," a MeT official said adding it was a pointer towards more pleasant days ahead.
The bone chilling cold returned to Kashmir and frontier region of Ladakh as the night temperature witnessed a drop of several notches in Jammu and Kashmir owing to clear skies.
Kargil town in the cold desert of Ladakh was the coldest place in the state with a low of minus 18.2 degree C as compared to Wednesday's minus 15.8 degree C.
The nearby Leh town, also in Ladakh, witnessed a drop of four notches in the minimum temperature which settled at minus 16.4 degrees Celsius, a spokesman of the MeT office said.
The minimum temperature in the famous skiing resort of Gulmarg in north Kashmir was minus 9.2 degree C- down by five notches as compared to the previous night.
Barring Adampur, in Punjab, that reeled under intense cold at minus 0.4 degree C, minimum temperatures at many places in the state and neighbouring Haryana witnessed a marginal increase on Thursday.
For the second day on Thursday, bright sunshine greeted the residents at most places in the two states and their joint capital Chandigarh, where the minimum temperature rose by nearly four notches since Wednesday to settle at 6 degrees C.
Night temperatures increased in parts of Rajasthan, where Churu remained the coldest place with a minimum temperature of 3.9 degree C followed by Ganganagar at 4.1 degree C.
While in East, Agartala on Thursday experienced the coldest day in the last four decades with mercury dipping to 3.3 degree C.
"The temperature recorded this morning was 3.3 degree C, 6.3 degrees below normal, making it a record in the last four decades," Dilip Saha, Director of meteorological department said.