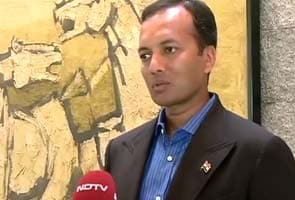 New Delhi:
Congress MP Naveen Jindal, who owns Jindal Steel and Power, has denied that his political clout helped his companies land more coal blocks in India than anyone else. "The logic in India is if somebody does well, how do we pull them down," Mr Jindal said to NDTV today. "Why can't you believe we must be really good performers?" he asked. "Our track record must be extremely good and that is why all the state governments have been recommending our cases," he added. Mr Jindal has also denied that he got a sweetheart deal from the government that gave him cheap coal to generate power that he sold at expensive rates.
Mr Jindal says that Jindal Power Limited (JPL), a subsidiary company, was given four coal blocks before 2004, when he became MP, and another four after that. He says that he agrees with the need to introduce a competitive bidding system now, but says that several years ago, there were few takers for coal blocks.
Opposition parties like the BJP and Nitish Kumar's JD(U) have been asking for action to be taken against Mr Jindal, whose firm was assigned coal blocks in Karnataka, Chhattisgarh, West Bengal and Jharkhand.
Questions about how coal blocks were allocated by the government - without transparency, according to the national auditor - has spawned a huge political crisis, forcing the government on the defensive over a coal policy allegedly founded in crony capitalism and laced with corruption. The opposition BJP has been demanding the Prime Minister's resignation. The auditor or CAG's report has said the government lost upto 1.86 lakh crores by delaying the introduction of an auction process. The Central Bureau of Investigation (CBI) has begun filing cases of criminal conspiracy and cheating against firms and their directors for allegedly misrepresenting information to corner coal blocks. And an inter-ministerial group of bureaucrats is expected to recommend in the next few days that some firms lose their permits because they have not made any progress in developing the fields they were allotted. A coal block in Jharkhand owned by Mr Jindal's firm is allegedly on that list.
One of the charges against Mr Jindal's firm relates to a coal block it was assigned in Chhattisgarh in 1998, for a power plant nearby. In India, coal cannot be mined for commercial reasons by private players- it must feed a steel or power plant. Mr Jindal was given a coal block at no charge, but his power plant in Chhattisgarh operates on "a merchant power model" - it is not bound by a long-term power-purchase-agreement with the state. So according to the opposition, Mr Jindal's firm mines coal cheaply, and sells it at higher rates than other companies can because it can "spot sell" or auction power to the highest bidder interested at a given time.
The Opposition says this defeats the point of giving away mines cheaply to ensure power prices remain low, a defence used by the government. "We wanted to achieve financial closure and wanted to sign long-term PPAs but no state government agreed," he says, stressing that he risked setting up a project without any guaranteed buyers for the power his plant would generate. "We began selling it in the open market because the state government did not want power. Chhattisgarh, at that time, was surplus in power," he said. The BJP, which has governed Chhattisgarh for nearly a decade, disagrees with that claim. Mr Jindal says that's just politics at play. "Today, we produce 1000 MW. We supply 250 MW within Chhattisgarh at about Rs 3, rest we sell as per competitive bidding."
He also said that his company's financial success is based not on malpractice but on clever operations, like putting up his power plant just 10 km from its coal block, reducing transportation and other costs. "We had minimum capital costs because our (power) plant was set up near the coal block," he says. "As supply has increased, prices have gone down.... they have fallen from Rs 5-6 to Rs 3.30," he said of his own plant's rates.