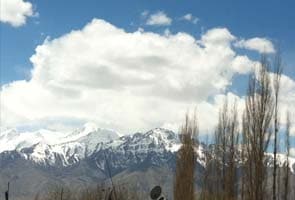 Leh:
The possibility of a third flag meeting in Ladakh today between Army commanders from China and India seems remote for now, as a stand-off continues over a Chinese platoon setting up camp 10 kilometres inside Indian territory in the Depsang Valley.
Two flag meetings in the last 10 days have yielded no results. The Chinese troops set up camp on April 15 and have been there.
The Army assesses that the stand-off might continue for weeks without either side blinking and, importantly, without further escalation. Sources have ruled out any sort of military response to the incursion, but the Indian Army has ordered a re-assessment of vulnerable areas.
China reiterated yesterday that it has not provoked the flare-up. "China's troops have never crossed the (LAC) line. China and India are neighbours and the boundary is not demarcated yet," said Chinese Foreign Ministry spokesperson Hua Chunying, emphasising the need to end the dispute through "friendly consultations."
India has also reiterated the need to prevent the escalation of hostilities. But an assessment by the Army, intelligence agencies, and the Foreign Affairs Ministry concludes that the incursion was what a source described as "a well-thought out decision cleared at the highest level and not a localised action."
In New Delhi, the opposition has attacked the government for what it calls its "weak handling" of the situation. The BJP has accused the Congress-led UPA government of being unable to stand up to Beijing and has written to a parliamentary panel on defence asking for a detailed report on the situation. The standing committee on defence meets today.
External Affairs Minister Salman Khurshid has tried to play down the tension, saying, "We have expressed our view and concern to the Chinese government through their Ambassador in Delhi. The first two rounds of the flag meet have not given us any sense of satisfaction and accomplishment. There are other rounds in process and the important thing from both sides is that it is and must remain an isolated incident and should not spill over into the larger spectrum of our relationship with China."
Mr Khurshid will visit China on May 9 as scheduled. His trip to China is part of preparations for a visit by the newly installed Chinese Premier Li Keqiang who is expected in New Delhi on May 20 for his first overseas trip.