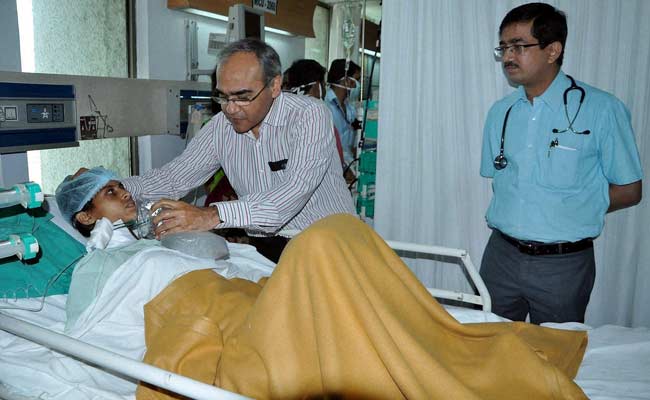 Raipur:
The director of a drug company, which allegedly supplied sub-standard medicines that were administered to the victims of sterilisation surgeries in Chhattisgarh, and his son were today arrested.
"Mahawar Pharma Pvt Ltd's director Ramesh Mahwar and his son Sumit have been arrested under section 420 for cheating, based on a complaint lodged by Food and Drug Administration (FDA) authorities," Raipur Superintendent of Police OP Pal told PTI.
The state government has also banned all medicines manufactured by the pharmaceutical company.
The FDA had yesterday conducted a raid and sealed a manufacturing unit of the company which supplied an antibiotic drug used at sterilisation camps in Bilaspur district where 13
women died and nearly 138 fell ill.
After preliminary examination of samples of medicines collected from the pharmaceutical unit, Drug Inspector Tripti Jain lodged a case against the promoters last night following which action was taken.
The FDA has suspended sale and supply of products of the company across the state and directives have been issued to chemists and drug suppliers in this connection.
During the raid, a significant quantity of drugs were found burnt at the company premises and a detailed report in this connection will be given to higher authorities, official sources in the drugs control department had said.
Notably, the department had conducted a raid last evening at a unit of Kavita Pharmaceuticals in Bilaspur, which had also allegedly supplied some medicines to the sterilisation camps. The department has also collected drug samples from there for testing.
The state government has already suspended the sale of six drugs used in surgeries at separate government-organised sterilisation camps recently in Bilaspur.
Under attack over the botched sterilisation surgeries, Chief Minister Raman Singh had yesterday announced a judicial probe in the matter.
Laparoscopic surgeon Dr RK Gupta of Bilaspur district hospital, who performed sterilisation procedures on 83 women at a camp at Pendari village in a matter of few hours, was arrested on Wednesday.
Dr Gupta and Bilaspur's chief medical and health officer Dr RK Bhange were later dismissed from service by the state government.
Besides, the government had suspended State Programme Convener, family planning, Dr K C Urao and Block Medical Officer, Takhatpur, Dr Pramod Tiwari and transferred Director Health Services Dr Kamalpreet Singh.