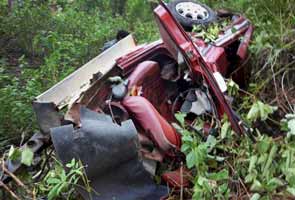 Raipur:
Chhattisgarh Chief Minister Raman Singh of the BJP admits there were security lapses that allowed Naxals to execute an audacious attack that left 24 people, including top Congress leaders, dead on Saturday. He has, however, said it is too early to pin blame on anyone.
(Read: Highlights of Raman Singh's interview)
Sources in the Congress-led central government, however, said security preparations for the party's rally from where its leaders were returning, was poor and lacked coordination. State government sources said it had deployed an 800-strong force at the Congress programme.
The BJP, in fact, has slammed the Centre for politicising the incident, referring to Prime Minister Manmohan Singh's reported statement, 'who is responsible for the attack'. "The Prime Minister should have refrained from playing a blame game," party spokesperson Rajiv Pratap Rudy said.
(Read)
The Congress convoy was chosen as a soft target by the Maoists, who have so far mostly targeted security forces in the region, Home Ministry sources said. The ambush, they said, might have been planned and executed by Katakam Sudarshan, a central member of the outlawed CPI-Maoist.
(Read)
The sources said this was being seen a retaliatory attack as the Maoists have suffered major setbacks in the past two or three months. The ministry issued an advisory to other Maoist-hit states today, warning that more such attacks are possible.
A preliminary central government review has reportedly concluded that the lack of a comprehensive security plan and a neglect of safety procedures allowed the attack. The politicians were moving in a big convoy of 25-odd cars which is in contravention of security procedures.
(Read: Poor security, Maoists had free run, reveals review)


Questions have also been raised about whether the route of the Congress convoy was changed, but sources tell NDTV that is just speculation so far and that the convoy was merely taking the shortest route.
At about 3:30 pm on Saturday, around 250 Maoists struck a convoy of 25 cars carrying Congress leaders and others, who were returning from the party's
Parivartan
rally in Sukma. They triggered landmine blasts and then rained bullets at the convoy from vantage points on hillocks.
(Read: Foreign media on attack)
The two dozen-odd security personnel traveling with the convoy returned fire but soon ran out of ammunition. The Maoists then surrounded the convoy, took away the mobile phones of the leaders and then shot them in cold blood. Senior leaders like
Mahendra Karma
and Nand Kumar Patel were among those killed.
(Watch: Why Mahendra Karma was on Naxals' hit list)
The attack is now being investigated by the elite National Investigation Agency or NIA. This is the first Maoist assault that the agency is probing.