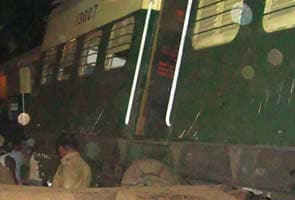 Chennai:
At least nine people were killed and over 100 injured when two trains collided near Chennai on Tuesday evening. Unofficial reports, however, put the death toll at 15. The accident happened between Arakkonam and Chiteri, about 80 kilometres from Chennai.
(See first pictures)
The injured have been rushed to the Arakonam and Vellore government hospitals, as well as hospitals in Kancheepuram.
Many passengers were trapped in the 5 bogies that derailed. Inspite of heavy rain and darkness hampering rescue work, reports suggest all of them have been pulled out to safety. More than 100 police officials and firemen are involved in the rescue efforts. Navy personnel and two teams of the National Disaster Relief Force (NDRF) are also at the site.
Railway Minister Dinesh Trivedi is rushing to the site of the accident with senior Railway officials. He has announced a compensation of Rs 5 lakh for the next of kin of those killed and Rs 2 lakh for those seriously injured.
(Watch: Dinesh Trivedi on Chennai train accident)
Sources say the Arakonam-Katpadi local train was waiting for a signal at Chitheri railway station after it had left Arakonam at 9.20 pm. An EMU from Chennai Beach to Vellore Cantonment, which had left Chennai at 8 pm, went on the same track and rammed the waiting passenger train at about 9.25 pm.
Railway officials suspect a signal malfunction, but say it is too early to speculate on what caused the accident. The driver of the EMU and the guard of the stationary train among the dead.
Many outbound trains from Chennai to Karnataka, Kerala and western Tamil Nadu have been cancelled. Incoming trains on the same route are also unlikely to reach Chennai in the morning.
Chennai Helpline numbers: 044 25357398, 044- 25347771, 09244919572