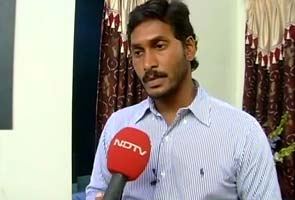 Hyderabad:
A Central Bureau of Investigation (CBI) court in Hyderabad on Wednesday rejected a statutory bail plea filed by YSR Congress chief Jaganmohan Reddy earlier this month.
This comes as a setback to Mr Reddy and his supporters who had argued that the CBI should have filed its chargesheet within 90 days of his arrest under section 167(2) of the Criminal Procedure Code. They had accused the CBI of intentionally delaying the investigation.
Another bail plea filed by Mr Reddy's lawyers on the November 16 has been posted for hearing on Friday.
The Supreme Court had earlier ruled that Mr Reddy cannot apply for a bail until the investigation gets completed in his illegal assets case.
Mr Reddy has already spent six months in Hyderabad's Chanchalguda Central Prison since his arrest by the CBI on May 27. He was named as accused number one in the chargesheet even before he was arrested. He is accused of holding assets beyond known sources of income and for allegedly receiving quid pro quo favours when his father YS Rajasekhara Reddy was chief minister.
While Mr Reddy is in jail, his sister Sharmila is on a
padyatra
in the Telangana districts. She has been campaigning about how her father has been instrumental to the developments in the region. She also highlighted that her father had initiated several thousand crore rupees worth of irrigation projects and virtually every welfare scheme YSR launched was from Telangana.