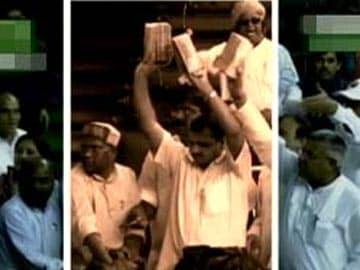 New Delhi:
Former Samajwadi Party leader Amar Singh and three BJP men who waved wads of cash in Parliament in 2008 alleging that they were bribed to save the Manmohan Singh government in a trust vote, were let off by a Delhi court today.
The BJP's Faggan Singh Kulaste, Ashok Argal and Mahabir Singh Bhagora had caused a sensation in July 2008, when they waved bundles of cash in the Lok Sabha, which they alleged were part of a bribe to save the government after Left parties withdrew support over the India-US civilian nuclear deal.
The court today accepted the claim of the BJP leaders that they were whistleblowers.
Former Samajwadi Party leader Amar Singh, who had been accused of conspiring with his secretary to deliver Rs 1 crore as bribe for the MPs, was also discharged as the court said the allegations did not go "beyond the realm of suspicion."
Only one accused, Sanjeev Saxena, an alleged agent of Amar Singh, will stand trial under the Prevention of Corruption Act, the court said.
The Delhi Police, in a charge-sheet filed in 2011, had accused Amar Singh and BJP leader LK Advani's former aide Sudheendra Kulkarni of conspiring to bribe the MPs.
A Parliamentary panel which had investigated the bribery scandal had asked the police to register a case in 2009.