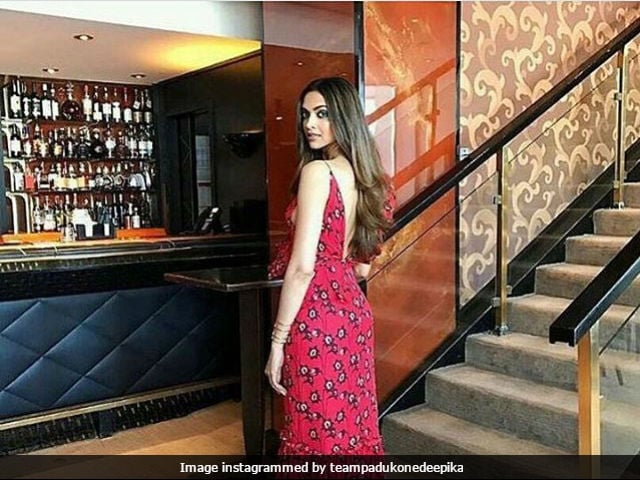 Highlights
Deepika will represent L'Oreal Paris for the first time this year
Deepika will be styled by international stylist Elizabeth Saltzman
The Cannes Film Festival will be held from May 17 to May 28
New Delhi:
It is actress Deepika Padukone's big day at the Cannes Film Festival
and her first look, presumably for press, is a red maxidress strewn with flowers by Johanna Ortiz. Pictures released by various social media accounts today showed the 31-year-old actress, wrapped in a fluffy white bathrobe, was pictured soaking in the sun in the Martinez Hotel and in hair and make-up, getting her eyes done in a shade that reflects the blue of the Mediterranean sea. Deepika Padukone has been at Cannes once before but this is the first year she will be representing cosmetics giant L'Oreal on what is arguably the world's most glamorous red carpet. Here are pictures of Deepika's first Cannes outfit and what she's been upto all morning:
Deepika herself reposted her stylist, who appears to think the actress looks a lot like the dancing girl emoji in her red dress (we'll be watching Twitter for reactions):
Beauty and the beach. #LifeAtCannes#DeepikaAtCannes#Cannes2017pic.twitter.com/mwfUtRNTuJ

— L'Oreal Paris India (@LOrealParisIn) May 17, 2017
Mesmerising is the word! #DeepikaAtCannes#LifeAtCannes#Cannes2017pic.twitter.com/3DFBRSumwy

— L'Oreal Paris India (@LOrealParisIn) May 17, 2017
Here are more pictures of Deepika Padukone's first day in Cannes:
. @deepikapadukone looking radiant on her first morning in Cannes, as she soaks up the sun by the French Riviera. #LifeAtCannespic.twitter.com/Ly2kQTK1f4

— L'Oreal Paris India (@LOrealParisIn) May 17, 2017
@deepikapadukone Hey, Sunshine! @DeepikaPadukone looks all set to kick-start her #LifeAtCannes! pic.twitter.com/Iw4Nwg5CxT

— L'Oreal Paris India (@LOrealParisIn) May 17, 2017
Vivid strokes of turquoise on eyes that could kill! Here's @deepikapadukone getting ready for her first red carpet appearance! #LifeAtCannespic.twitter.com/e2psj7gbeY

— L'Oreal Paris India (@LOrealParisIn) May 17, 2017
Deepika Padukone was photographed arriving at Nice Airport on Tuesday, chic in jeans and a summery mustard top by Chloe.
Let's welcome our global ambassador, @deepikapadukone to Cannes! The glamorous experience of #LifeAtCannes begins. pic.twitter.com/Wev0HqFfbf

— L'Oreal Paris India (@LOrealParisIn) May 16, 2017
She left Mumbai on Sunday wearing a Alberta Ferretti maxidress topped with a jacket. She stopped over in London for a day.
In Cannes, Deepika Padukone posted a picture of the view from her hotel room
. It's okay to be jealous:
Deepika Padukone wore a sari when she made her Cannes debut in 2010. This time, we're expecting slinky designer gowns. The actress' look will be curated by international stylist Elizabeth Saltzman. Deepika will be succeeded on the Cannes red carpet by fellow L'Oreal ambassadors Aishwarya Rai Bachchan and Sonam Kapoor.
Earlier this year, Deepika Padukone made her Hollywood debut with
xXx: The Return Of Xander Cage
, opposite Vin Diesel. She's been spotted on the red carpet for events like the Met Gala and MTV EMAs and also attended after parties for the Oscars and Golden Globes.
The Cannes Film Festival will be held from May 17 to May 28.