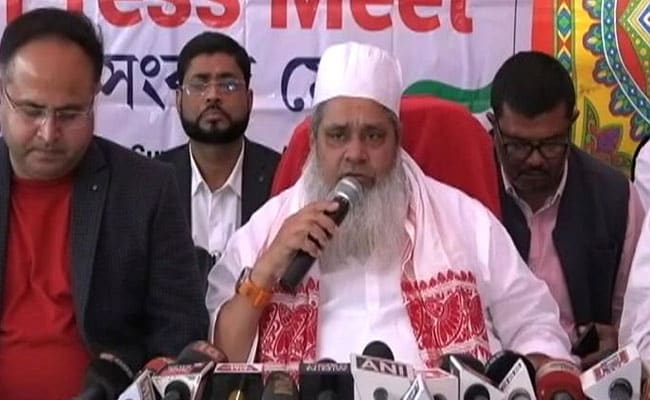 Guwahati:
Leaders of the AIUDF, a party in Assam that champions the cause of Muslims in the northeast, plan to meet with Prime Minister Narendra Modi and Home Minister Rajnath Singh to protest against Army Chief
General Bipin Rawat's comments
at a seminar that there were reports of an increase in Muslim population in several districts of Assam and the All India United Democratic Front has been rising in the BJP-ruled state.
"We have seen on several occasions during this NDA (National Democratic Alliance) regime that non-political people holding high offices are making politically inclined statements and using a political tone online with the political discourse propagated by the ruling regime. This trend is extremely unhealthy for a secular country," Maulana Badruddin Ajmal, AIUDF Lok Sabha parliamentarian from Dhubri in Assam, told NDTV.
The AIUDF, formed in 2005, has three members in parliament and 13 legislators in the Assam assembly.
Mr Ajmal denied
General Rawat's claim
that the party has been growing stronger in the northeast. "We will protest with facts. How can he say our party's growth is unparalleled? Our growth has stopped. Till now we have fought three assembly elections. In the first one, we got 10 seats; in the next, we got 18 seats, and in the last election in 2016 we got 13 seats. So it's a negative growth," Mr Ajmal said.
At the seminar on Wednesday, General Rawat also warned against the influx of people from Bangladesh, calling it proxy war by Pakistan with help from China. "There is a party called AIUDF. If you look at it, they have grown in a faster time-frame than the BJP grew over the years," he said, adding that the BJP won only two seats in the 1984 national election. "The AIUDF is moving at a faster pace in Assam."
Army sources said there was nothing controversial in what General Bipin Rawat had said, that he had just mentioned "amalgamation and development".
The AIUDF in a statement said the Indian Army chief did not mention the Bharatiya Janata Party's rise in the 2016 Assam assembly election.
"In the 2016 assembly election, BJP saw historic growth. From five (seats), they went up to 61. Why is he not questioning that? Has BJP not got Muslim votes? And if all Muslim votes had come to us, we would have had more MLAs, rather Congress got more Muslim votes," Mr Ajmal told NDTV.
The AIUDF claims it was one of the first organisations in Assam that sought identification and deportation of illegal migrants by updating the National Register of Citizen or NRC, a process that's still going on in Assam.
"Updating the NRC will show who is illegal and who is not. Genuine Muslims and even Hindus have been harassed for years in Assam and branded as Bangladeshi. It will end with a proper NRC. It is the centre and the state who have been delaying the process. It is because of a firm stand of the Supreme Court that the process has gathered pace, so the Army chief's comment is very damaging for Assam," Mr Ajmal said.