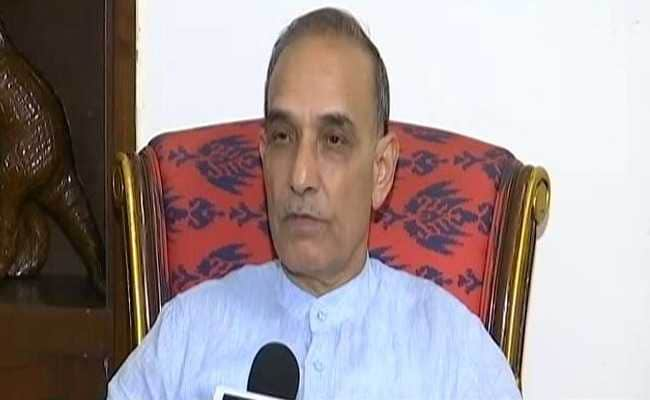 New Delhi:
Former Mumbai Police commissioner Satya Pal Singh, who quit the post to join politics in 2014, is now part of Prime Minister Narendra Modi's
new cabinet
. The 61-year-old Lok Sabha MP from Baghpat, Uttar Pradesh, he was a 1980-batch Maharashtra cadre IPS officer.
During his tenure, he was honoured by the Centre with Antrik Suraksha Sewa Padak in 2008 and a special medal for extraordinary work in Naxal-hit areas in Andhra Pradesh and Madhya Pradesh in 1990. He also received the President's Police Medal for distinguished service in 2004.
Born in Basauli village in Baghpat on November 29, 1955, he has MSc and MPhil degrees in Chemistry, an MBA in strategic management from Australia and an MA degree in public administration as well as a PhD on the Naxalite movement. He has written books on varied topics including tribal conflict resolution and Naxalism. He has a keen interest in vedic studies and regularly delivers lectures on spirituality, religious extremism and corruption.
Prior to being appointed the Mumbai Police chief, he was Maharashtra's additional director general of police. He has also served as the Joint Commissioner of Police (Crime) in Mumbai. He is credited with dismantling organised crime syndicates that terrorised Mumbai in the 1990s, including the Chhota Rajan, Chhota Shakeel and Arun Gawli gangs.
When the mafia in Mumbai went berserk that led to several high-profile killings, Mr Singh formed special police squads and cracked down on several underworld biggies. The August 25, 2003 Mumbai bombings at Gateway of India and Zaveri Bazaar took place during his regime.
As Police Commissioner of Nagpur, he initiated 'Mission Mrityunjay', an anti-terror initiative in which college students assisted the police and reported suspicious and anti-social activities on campus and in the city. He also busted the 'matka' gangs in Nagpur.
His tenure as Pune Police Commissioner witnessed the 2010 bombing at the German Bakery that killed 17 people and injured at least 60.
In June 2011, weeks after being appointed chairman of a special investigation team constituted by the Gujarat High Court to probe the Ishrat Jahan fake encounter case, he requested the court to relieve him as he cited differences of opinion with two other SIT members.
In January, 2014 Singh applied for the voluntary retirement scheme (VRS) and contested the Lok Sabha elections saying his "inner voice told him it was time he changed his profession". "As a police officer, I have worked for the people of Mumbai and Maharashtra for many years, but now it's time to work for the entire country with a renewed energy," he said.
He was pitted against Rashtriya Lok Dal chief Ajit Singh from Baghpat where he won with a thumping margin of 2,09,866 votes, defeating Samajwadi Party's Ghulam Mohammed and pushing Ajit Singh to the third spot with only 1,99,516 votes.
(With inputs from PTI)