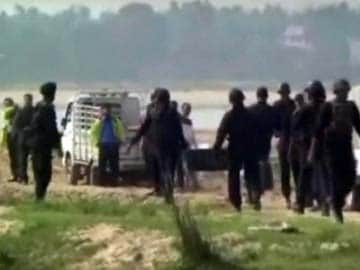 Burdwan:
The West Bengal police's handling of the initial investigation into the October 2 blast in Burdwan might have allowed at least three dozen people possibly connected with the explosion that killed two people, to escape to Bangladesh, say sources in the National Investigation Agency or NIA, which now has charge of the investigation. (
Burdwan Blast Case: 30 Grenades Found From House Sealed by Bengal Police
)
The sources said the local police had failed to make much headway in the case even after the arrest of three prime suspects in the case. This despite the fact that the Bengal police had also recovered a pen drive from a house in the area, that had a recording of an instructor explaining in Urdu and Bangla how to make bombs, improvised explosive devices and hand grenades. (
Burdwan Blast: National Investigation Agency Team Visits Madrasa
)
The pen drive has now been handed over to the NIA, which has, since it began its investigation on Sunday, also reportedly found material suggesting that an abandoned madrasa may have been used as a hub by people linked to the Burdwan blast to make bombs that were exported to Bangladesh.
On Thursday, the NIA found more than 30 IEDs in the toilet of a house near the blast site - one that was searched and sealed by the state police eight days ago. The Bengal police had raided the house on October 8 after questioning the two women arrested in the case and found it vacant. (
National Investigation Agency Files Complaint in Burdwan Blast Case
)
But yesterday, sniffer dogs of the NIA and the elite National Security Guards or NSG found the bombs, which were detonated today on a sandy stretch a little away from Burdwan town.
The NIA reportedly estimates that about 36 people allegedly associated with the manufacturing of bombs and hand grenades should have been in apprehended, among them terror masterminds.
But the local police did not even raid the madarsa, which came under the scanner after the two women arrested for the Burdwan blast allegedly admitted their links with it.
The opposition in the state, including the BJP that rules at the Centre, has alleged that the state police are hiding evidence at the behest of the ruling Mamata Banerjee-led Trinamool Congress, which had vehemently opposed handing the case over to the NIA.
The Trinamool has lashed back, saying the party has full confidence in the state police. In a recent Facebook post, Chief Minister Mamata Banerjee did not mention the Burdwan blast directly or the deployment of NIA, but accused the Centre of violating the federal structure of the country. (
BJP's Arrogance, Conduct Reminiscent of Emergency Days: Mamata Banerjee
)