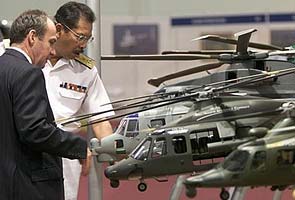 New Delhi:
Italian prosecutors investigating defence giant Finmeccanica say that in addition to bribing officials for a 12-helicopter deal, the company discussed kickbacks for a larger deal as well with a serving Brigadier in the Indian Army.
The Italian enquiry says that in 2003, a serving Brigadier of the Indian Army allegedly demanded five million dollars to influence a contract for 197 light helicopters in favour of Finmeccanica's subsidiary, AgustaWestland.
The deal is on hold, and AgustaWestland did not make the shortlist for the tender, but the Italian report says that instead of disclosing the offer made by a man identified as "Brigadier Saini", the company told said he should be "more patient and we will give you an answer at the end of the competition."
India has commissioned a CBI investigation to determine whether AgustaWestland paid bribes to land a contract in 2010 for 12 helicopters meant for use by Indian VVIPs like the Prime Minister. That is the premise of Italian investgiators, who arrested Finmeccanica's CEO, Giuseppe Orsi, this week for allegedly paying bribes at home and in other countries.
Yesterday, the deal for 197 light helicopters, worth an estimated 8000 crores, was also put on hold by India because of reports that the two contenders had not met the technical requirements listed in the tender.
Eurocopter's AS 350 Fennec and Russian Kamov's 226 'Sergei' had been shortlisted while AgustaWestland was knocked out in the initial round of scrutiny.
If and when the 197 light helicopters are bought, they will replace the ageing Chetak and Cheetah helicopters, which are critical for providing supplies to troops deployed in Siachen Glacier and other high altitude areas.