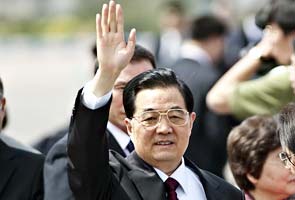 The BRICS group of emerging world powerhouses - Brazil, Russia, India, China and South Africa - is meeting in Delhi for their fourth summit today. The BRIC acronym was coined in 2001 by Goldman Sachs economist Jim O'Neill, who was searching for a catchy way to encapsulate the broader shift in global economic growth towards emerging markets. South Africa joined the grouping in 2010 so that it became BRICS.
1) The most relevant announcement at the summit is likely to be a plan for joint development bank modelled on the World Bank. This would allow the five countries to pool resources for infrastructure improvements, and could also be used in the longer term as a vehicle for lending during global financial crises such as the one in Europe, officials say. Most member countries are facing a slowdown in their economies.
2) BRICS accounts for 26 per cent of the world's landmass and 42 per cent of the global population and 40 percent of the global GDP ($18.486 trillion). Goldman Sachs predicts that "BRIC can become collectively bigger than the G-7 (the top industrial powers) by 2035".
3) BRICS countries have accounted for over 50 per cent global economic growth in the last decade.
4) Intra-BRICS trade is growing at an average of 28 percent annually and currently stands at about $230 billion.
5) The countries are also expected to sign agreements allowing their individual development banks to extend credit to other members in local currency, a step towards replacing the dollar as the main unit of trade between them.
6) The BRICS meet comes amid Western pressure to cut crude imports as part of sanctions designed to halt Tehran's suspected pursuit of nuclear weapons. China and India are the biggest buyers of Iran's crude. The BRICS group of countries has broadly agreed they are not bound by "unilateral" sanctions on Iran, measures that threaten higher global oil prices and could result in supply shortages.
7) While the plenary session today is likely to focus on common ground, bilateral meetings could touch on more sensitive issues.
8) Political developments will also be discussed, like the situation in Syria. At the UN recently, India took a very different position from China and Russia and supported a Western resolution that demanded the departure of Syrian President Bashar al-Assad.
9) BRICS held its first summit in 2009 and has been criticised as nothing more than an empty acronym as it struggles to find common cause from four different continents with radically different economies, systems of government and competing priorities.
10) Tibetan activists have been protesting the presence of Chinese President Hu Jintao in Delhi. Many Tibetans have been detained by the Delhi Police, provoking sharp criticism.