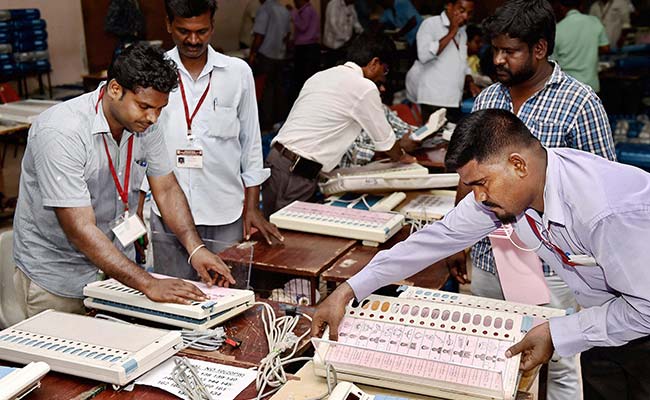 Mumbai:
Amid the opposition allegations of Electronic Voting Machine tampering, the Bombay High Court has ordered the forensic examination of EVMs used in 2014 for an assembly election in Maharashtra. Such forensic examination is a first for EVMs -- which had replaced ballot papers across India for nearly two decades.
The Election Commission contends the machines are beyond tampering and has responded with a challenge to unbelievers to try and hack into machines. But on May 4, the Bombay High Court ordered the forensic examination of EVMs used in the assembly election for Maharashtra's Parvati constituency.
The order came after Congress candidate AB Chajed appealed to the court, contending that he had done a booth analysis and believes that the voting machines were tampered with. Mr Chajed, who lost the election to BJP's Madhuri Misal, told NDTV, "People have come forward to tell me that they have voted for the Congress".
Mr Chajed said he has got affidavits from 63 people, saying they voted for him. But according to records from that booth, he had got only 52 votes.
The court wants to know if there is any "material evidence" indicating tampering or manipulation of the EVM machines. In his order, Justice Mrudula Bhatkar said the forensic examination should also find out whether there was tampering in the "counting unit or the ballot unit along with connecting cables from any external or internal remote device or source".
The examination will be carried out in the Forensic Science Laboratory of Hyderabad, for which the Court has framed nine key questions.
Among other things, it wants to know whether there is any electronic part or device in an EVM which can be remote-controlled by external devices through infrared, Bluetooth or similar technologies. There are questions if the machines can be tampered using infrared and remote technologies. The court also wants to know if any other memory chip can be inserted in an EVM to store any counter-data.
The case will be heard again on June 20, by which time, the court expects some answers.
After the recent round of assembly elections, in which the BJP swept Uttar Pradesh and Uttarakhand, there have been allegations about rigged voting machines. Opposition leaders like Aam Aadmi Party's Arvind Kejriwal and BSP leader Mayawati have called for a return to ballot papers.
The Election Commission has called a meeting on May 12 with the leaders of all major political parties. After that, a hackathon will be held in the last week of May, which will give people a shot at manipulating the machines.