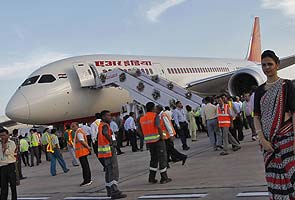 New Delhi:
India has grounded all six of the Boeing 787 Dreamliner aircraft operated by state-owned carrier Air India after the same decision was made by the US Federal Aviation Administration (FAA).
"We will not fly Dreamliners until our DGCA (aviation regulator) gives a clearance," said Union Civil Aviation Minister Ajit Singh, adding, "FAA has to first approve that Boeing Dreamliners are safe to fly."
"As of now there is no clarity on when the Dreamliners will be back in service. Boeing has to satisfy everyone with safety standards," Director General of Civil Aviation Arun Mishra told Reuters.
Out of the six 787 planes with Air India, one is usually on standby and five are being used - two for international flights to Frankfurt and Paris and others on domestic routes to cities like Bangalore and Mumbai.
Two Boeing 787 aircraft scheduled to be delivered to Air India by the end of this financial year are now on hold.
On Wednesday, the US Federal Aviation Administration (FAA) said it would temporarily ground Boeing's newest commercial airliner and insisted airlines would have to demonstrate the lithium ion batteries were safe before they could resume flying. It gave no details on when that might happen.
The decision by the US came after Japan's two leading airlines grounded their fleets of Boeing 787s after one of the Dreamliner passenger jets made an emergency landing.
All Nippon Airways Co said it was grounding all 17 of its 787s and Japan Airlines Co said it suspended all 787 flights scheduled for Wednesday. ANA said its planes could be back in the air as soon as Thursday once checks were completed. The two carriers operate around half of the 50 Dreamliners delivered by Boeing to date.
This is the first such action against a US-made passenger plane since the McDonnell Douglas DC-10 was grounded in 1979 after a deadly crash in Chicago, analysts said.
The 787, which has a list price of $207 million, represents a leap in the way planes are designed and built, but the project has been plagued by cost overruns and years of delays. Some have suggested Boeing's rush to get planes built after those delays resulted in the recent problems, a charge the company denies.
Boeing chairman, president and CEO Jim McNerney issued the following statement on the aircraft maker's website after the US Federal Aviation Administration (FAA) issued an emergency airworthiness directive - "The safety of passengers and crew members who fly aboard Boeing airplanes is our highest priority. Boeing is committed to supporting the FAA and finding answers as quickly as possible.... We are confident the 787 is safe and we stand behind its overall integrity. We will be taking every necessary step in the coming days to assure our customers and the traveling public of the 787's safety and to return the airplanes to service. "
(Read statement here)