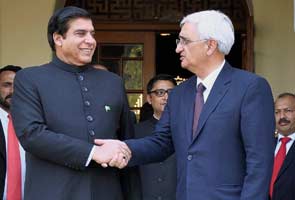 Jaipur:
Given the timing of the meeting, everyone from the country's Opposition to the khadims at the Ajmer Dargah were watching closely. India's Foreign Minister Salman Khurshid welcomed Pakistan's Prime Minister Raja Pervez Ashraf at Jaipur's Rambagh Palace. Roughly 32 dignitaries, including 18 members of the Pakistan premier's family were part of the delegation that is on a private trip to Ajmer to the well-known shrine of Sufi saint Khwaja Moinuddin Chisti.
At the 30 second photo op for the media, Salman Khurshid could be heard telling the Pak PM that it is believed that one could only visit Garib Nawaz, as the Ajmer Dargah is known as, when one is called by Him.
The visit comes at the time when tensions between both neighbours are still heightened following the killing and mutilation of the body of two Indian soldiers along the line of control early this year. A section of the khadims at Ajmer Dargah had also said that they will boycott the PM's visit and not receive him at the Dargah.
During the less than two hour interaction in Jaipur, at the head table for lunch were five dignitaries from both the Indian and Pakistani side. The menu was largely a Rajasthani affair with specialities like 'Ker sangri', 'Laal Maas', 'Dungar paneer', Dhundhar murg and 'makki rotis', finishing it off with Rajasthani dessert of rabadi malpua.
Criticised by the opposition, the government has maintained that it is merely extending courtesies that are due to any visiting dignitary.
Minister for External Affairs Salman Khurshid told the media, "We received him in accordance with his designation." When asked if India's concerns on the beheading of an Indian soldier or any bilaterals were discussed he said, "This was not an occasion or not was it my mandate to discuss these issues on pak loc etc since this was a private visit."
As the Pak PM and his family left for their 'ziyarat' in Ajmer, the variety at the lunch table didn't extend to the talks, courtesies and warm wishes were exchanged but diplomatic talk was kept strictly off the menu.