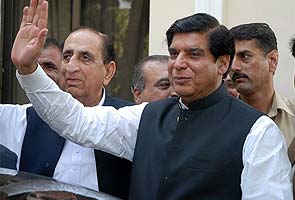 Islamabad:
A day after his resounding defeat in Pakistan's general election, former premier Raja Pervez Ashraf was on Monday barred from leaving the country over allegations of corruption in setting up power projects.
The Federal Investigation Agency directed authorities in airports to prevent Ashraf and several others accused of wrongdoing in the rental power projects scam from leaving Pakistan.
Earlier, the National Accountability Bureau - Pakistan's main anti-corruption agency - had decided to file a case over the rental power projects after the May 11 polls.
In March, the Supreme Court had issued a contempt of court notice to Ashraf for trying to influence the court by writing a letter to Chief Justice Iftikhar Chaudhry seeking the setting up of a commission to investigate the scam.
The rental power projects were mooted by the outgoing Pakistan People's Party-led government as a solution to the country's crippling energy crisis.
The apex court had earlier ordered the arrest of Ashraf and other accused in the case but the NAB had said it had no evidence against the suspects to make arrests.
The charges against Ashraf date back to his tenure as Power Minister.
The alleged corruption in the setting of the projects led to Ashraf being nicknamed "Raja Rental".
Ashraf suffered a humiliating defeat in the general election in a parliamentary constituency in his hometown of Gujjar Khan near Rawalpindi.