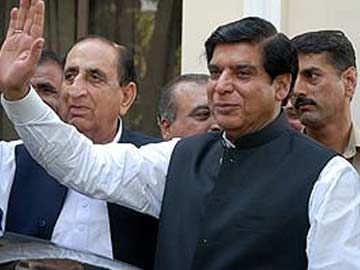 Islamabad:
The Pakistan Supreme Court today ordered action against former prime minister Raja Pervez Ashraf and several others in the multi-billion Rupees development funds case. A three-member bench headed by Chief Justice Iftikhar Chaudhry ruled that the former premier misused his powers while allocating development funds to the people of "his liking".
The Ashraf-led Pakistan People's Party government had approved Rs 52 billion uplift schemes during its last days. The Supreme Court had directed the Federal Investigation Agency (FIA) to trace beneficiaries of the massive funds.
The Attorney General had apprised the bench in June that Ashraf, while releasing the funds, had violated rules and regulations of Planning Commission of Pakistan. Representatives of auditor general of Pakistan informed the apex court that the Prime Minister has powers to utilise discretionary funds for development projects.
However, in case of shifting funds for another project, the consultation with the ministries concerned is also required, he added.
They contended that the former prime minister did not comply with the rules and regulations.
The Chief Justice had termed the release of Rs 20 million development funds to a Civil Aviation Authority (CAA) officer for convening a meeting, an act of extreme corruption. The officials involved in the corruption will try to save one another, he had remarked.
The Director General of the Public Works Development Sarwar Awan had told the court that Rs 140 million was released to three persons belonging to Chakwal district under the head of developments funds.
Rs 40 million was released to Col (retd) Ghluam Saleem, Rs 50 million to Malik Muhammad Amir and Rs 50 million to Fasil Majeed, he added.
Ashraf is also facing charges in the Rental Power Projects Scam.
He became the Prime Minister for a brief period after then premier Yousuz Raza Gilani was forced to resign after his conviction by the Supreme Court in a contempt case.