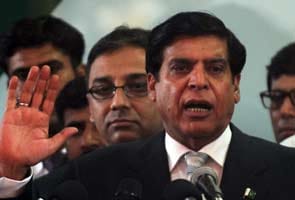 Lahore:
A Pakistani court today provisionally allowed former premier Raja Pervez Ashraf to contest the upcoming general election after suspending an Election Tribunal's decision to disqualify him.
A three-judge bench of the Lahore High Court headed by Justice Ijazul Ahsan accepted Mr Asharf's appeal against the verdict of the Election Tribunal and Returning Officer.
The court issued a notice to the Election Commission to respond by Monday to Mr Ashraf's appeal and also directed it to include his name in the list of "valid candidates" for the May 11 polls.
The bench also said its directions were linked to the final outcome of Mr Ashraf's petition.
Mr Ashraf intends to contest from a parliamentary constituency in his hometown of Gujjar Khan, 125 km from Islamabad.
Pakistan People's Party workers took to the streets in Gujjar Khan and celebrated after the High Court gave its verdict.
Earlier, Mr Ashraf's counsels Farooq H Naek and Sardar Latif Khosa argued in court that their client had not been convicted in any case.
Mr Ashraf was named an accused in a case over alleged corruption in the setting up of power projects and the Supreme Court had directed the National Accountability Bureau to launch a thorough investigation, they said.
Naek and Khosa said the NAB had not initiated any formal inquiry or filed a case against Mr Ashraf.
The Returning Officer had rejected Ashraf's nomination papers after his rivals alleged that he was involved in corruption and misuse of government funds.