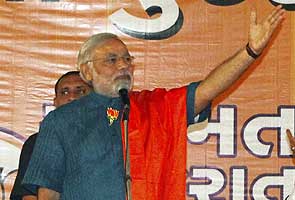 Patna:
After senior leaders of the BJP appeared to endorse Narendra Modi's bid for Prime Minister, the party course corrected yesterday. Speaking to NDTV, senior BJP leader Venkaiah Naidu said, "The party has not taken any decision on the Prime Ministerial candidate. Our allies in the NDA need to be consulted before taking a decision."
Mr Modi is currently in the middle of elections in Gujarat which he is expected to win comfortably.
As expected, an ally of the BJP, Nitish Kumar's Janata Dal United or JD(U) asked the party today to explain its stand on whether the controversial Gujarat Chief Minister will be selected as PM candidate, for the coalition led by the party, NDA. "The BJP should decide who their leader will be. If their party speaks in one voice it will be better for all of us," said JD(U) spokesperson Sanjay Singh.
The alleged confusion over Mr Modi's political future is the result of high praise lavished on him over the weekend by Sushma Swaraj and LK Advani, perceived as Mr Modi's competition for the nomination for PM. Ms Swaraj said that she believes Mr Modi is fit to be Prime Minister. Mr Advani followed a day later with this tribute - "Someone once asked me if Modi has become bigger than the party. I replied that in a family sometimes the younger ones are more capable then then the seniors and in such a case, seniors do not feel bad, they feel happy that a youth from their family is so capable."
The Bihar Chief Minister Nitish Kumar has repeatedly stressed that his alliance with the BJP, with whom he runs Bihar, will collapse if Mr Modi is named the NDA's prime ministerial candidate.
The communal riots of Gujarat in 2002 in which nearly 1200 people were killed, most of them Muslims, have led to leaders like the Bihar chief minister wanting to be politically distant from him. Mr Kumar is supported by the large Muslim population in his state; he has refused to let Mr Modi campaign in Bihar.