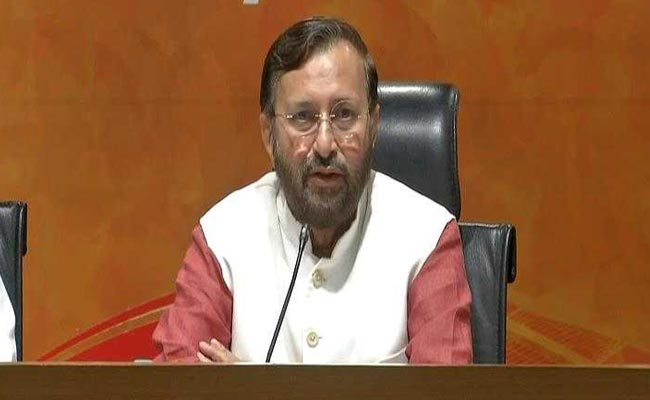 Dehradun:
Union Minister Prakash Javadekar said today that the BJP will return to power at the Centre, even stronger after 2019 Lok Sabha polls.
"There is no question of the Modi magic fading. His magic persists and we will emerge even stronger at the Centre after 2019," Mr Javadekar said while speaking to reporters in Dehradun.
He added that those who looked at the bypoll results as an expression of public opinion on Narendra Modi government's performance were wrong.
Dealing a blow to the ruling BJP, opposition parties emerged victorious in 11 out of 14 bypolls while limiting the BJP and its allies at just three and snatching the high-profile
Kairana Lok Sabha seat
in Uttar Pradesh with a united force.
"Bypolls are different. Voter turnout is low and local factors are at work.
These results cannot poin
t to what is going to happen in the general elections," he said.
"Modi was not in the picture in the bypolls. He did not go anywhere. So it shouldn't be perceived as a verdict on his government under whom the country is doing well on every front," Mr Javadekar added. He also said that he BJP would do better in 2019 than it did in 2014 in Odisha, West Bengal, Kerala and the northeast.
Mr Javadekar also sought to shatter the perception that PM Modi and Amit Shah were the only people who mattered in the NDA and all ministries were answerable to them.
"Their vision may guide ministries but that is not to say they have no freedom to take their own decisions," he added.
Praising the BJP for providing clean governance, Mr Javadekar said that in the last four years of PM Modi's tenure, there had not been a single corruption charge against any minister.
"Not only that. We have also put in place a system which does not allow corruption to grow. Now, 100 percent of the money released by the Centre under welfare schemes reaches the beneficiaries," he said,
Highlighting infrastructural developments over the past four years, Mr Javadekar mentioned the all-weather road projects for Chardham in Uttarakhand , on which work is underway on a war footing.
Asked whether it would not be challenging for BJP to take on a united opposition in 2019, Mr Javadekar added that opposition unity was not so easy to come about, especially when it would come to seat sharing.