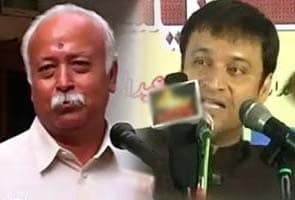 New Delhi:
The BJP has taken strong and public offense to remarks made by a leader belonging to Nitish Kumar's party, the Janata Dal (United).
Shivanand Tiwari of the Janata Dal (United) compared Mohan Bhagwat, the chief of the Rashtriya Swayamsevak Sangh (RSS), which is the BJP's ideological mentor, to Akbaruddin Owaisi, a politician in the news for delivering hate speeches in Andhra Pradesh.
"There is no difference between them (Bhagwat and Owaisi), both are two sides of the same coin...both create hatred in society in order to boost their vote banks," said Mr Tiwari, a Rajya Sabha member from Bihar.
BJP leader Ravi Shankar Prasad, addressing a press conference, described Mr Tiwari's comparison as "undignified, uncharitable and very condemnable" and appealed to JD(U) chief Sharad Yadav to "kindly restrain" their party leader.
Mr Bhagwat has starred in two recent controversies. First, he said that rapes are a crime restricted to urban and westernised cities, and are not a problem in rural India or "Bharat" which follows traditional values. Then, he described marriage as a "social contract" which assigns a wife to household chores while her husband provides for the family. Mr Bhagwat said that violations on either side could justify a cancellation of "the contract."