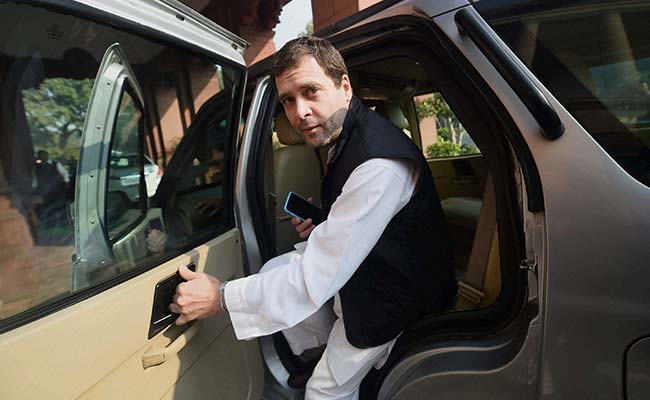 Kochi:
Questioning Congress vice president Rahul Gandhi's "silence" on the allegations against Chief Minister Oommen Chandy in the solar scam, BJP today said he should not be "selective" on corruption issues and urged him to "order" his party leader's resignation from the post of chief minister.
Senior BJP leader and Union Environment Minister Prakash Javadekar slammed Mr Chandy for sitting "comfortably" on Chief Minister's chair even after the prime accused Saritha Nair levelled the bribery allegations while deposing before the Commission probing the case.
"The Congress leader has no moral right to continue in the position in the wake of allegations against him and his office," he said.
He also criticised the "muted response" of CPI(M) and its leader Sitaram Yechury over the issue.
"Why is Rahul Gandhi silent on Kerala corruption? Where are you hiding? Where has he gone? He goes and asks resignation every day of ruling party ministers or somebody else? But why he is silent on such a corruption case against Kerala CM Oommen Chandy?" Mr Javadekar asked.
Noting that Saritha has given details--how bribe was given as instalments, to whom it was paid and where it was paid - Mr Javadekar said, "If that is the truth, then why Rahul Gandhi and Congress are silent? They cannot be selective."
He said she has also given tape recorded conversation with officials in the Chief Minister's Office.
Recalling the "hue and cry" raised by Congress leaders on "non-issues" like External Affairs Minister Sushma Swaraj's case and in the matter related to some other BJP ministers, Mr Javadekar said, "Rahul Gandhi must explain how he can be selective, how he can be silent and why he is not seeking the resignation of Kerala Chief Minister. We demand that Chief Minister Oommen Chandy must resign immediately," he said.
Describing as "curious the muted response" of CPI(M) in the whole episode, Mr Javadekar also took a dig at Mr Yechury, saying the Left leader was trying forge an alliance with the Congress to keep BJP out in West Bengal.
"Is it your Kerala politics, is it your Kerala policy? Yechury owes an explaination. Yechury and Communists are thoroughly exposed in this. Why they are giving muted response?" he said.