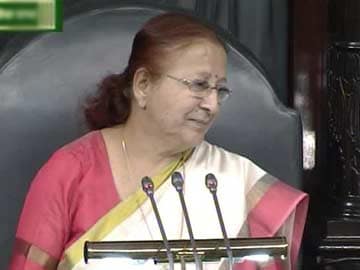 New Delhi:
Sumitra Mahajan, an eight-time BJP member of Parliament, has been elected Speaker of the Lok Sabha. Prime Minister Narendra Modi congratulated Ms Mahajan for her unanimous election. (
PM Modi Leads Newly-Elected MPs as They Take Oath in Lok Sabha
)
Mr Modi, in his first speech in Parliament, said, "There are 315 new members in the House. This means we can leave some old traditions behind and start some good new traditions, this new blood has the opportunity to present a strong democracy before the world." (
We Will Work for the Hopes and Dreams of People: PM Modi
)
The Prime Minister is one of those first time MPs. He was sworn in yesterday along with the other members of the 16th Lok Sabha. On Monday, the President will address a joint sitting of both Houses of Parliament. (
16th Lok Sabha: Ten Interesting Facts
)
Ms Mahajan is the first BJP leader to be elected the Speaker of the Lok Sabha.
Congress leader in the Lok Sabha Mallikarjun Kharge and leaders of other parties too made short speeches congratulating the new Speaker. (
Mallikarjun Kharge, Not Rahul Gandhi, to Lead Congress in Lok Sabha
)
Ms Mahajan will be the second woman to occupy the post of Lok Sabha Speaker. The first was her predecessor Meira Kumar.
Sumitra Mahajan, 71, is the longest serving woman lawmaker in the Lok Sabha. She was elected last month for an eighth consecutive term from Indore in Madhya Pradesh, defeating her Congress rival by a huge margin of 4.66 lakh votes. (
Also Read: 10 Facts on Lok Sabha Oath-Taking Ceremony
)
BJP leaders say Ms Mahajan has the right temperament and stature for the post of Speaker.
Affectionately called
Tai
or sister by followers, she is known to be a calm politician in the most adverse circumstances and has a very clean image.
Mr Modi said while greeting the Speaker today, "In your name it is inherent you will have friendly and cordial relations with everyone," adding "it is good to walk on the path taken by Mahajans and we have a Mahajan sitting here." Sumitra means "a good friend".
Soon after election results were declared, senior BJP leader LK Advani had reportedly pitched for the Speaker's post. But it was clear soon enough that the party leadership favoured appointing Ms Mahajan. (
No Room for LK Advani in Parliament House
)