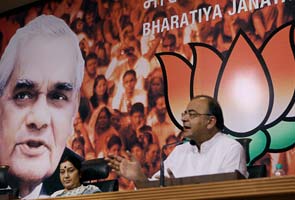 New Delhi:
Under sharp attack from the BJP on the fourth anniversary of the UPA 2 government it leads, the Congress can draw some solace from the fact that the main opposition party too is struggling with a leadership battle now playing out for all to see.
Not only is there a divide on who should be the party's presumptive Prime Minister in the next general elections, but senior leaders seem to be speaking in different voices even about how that leader will be chosen. Sushma Swaraj, seen as a contender for the top post, said today that the BJP's allies in the National Democratic Alliance it leads will be consulted on who will be the party's face for 2014. If at all someone is projected.
"Whether we will have a (Prime Ministerial) face or not and if we decide to have a face, who it will be, these issues will be decided by the BJP Parliamentary Board in consultation with NDA partners," Ms Swaraj said.
In an interview to NDTV last month, BJP chief Rajnath Singh had been quite categorical that a decision on the party's nominee for Prime Minister would be taken by the parliamentary board, a group of the party's 12 top leaders. He had not talked about consulting allies on the matter.
The main question before the BJP is whether or not Gujarat Chief Minister
Narendra Modi
will be the party's face for elections in 2014. Mr Modi enjoys immense support within the BJP and a section demands that he be declared the party's prime ministerial candidate now, but a crucial NDA ally, the Janata Dal (United), has warned that he is not acceptable to it.
Another ally, the Shiv Sena, has said that it is not opposed to Mr Modi being fielded, but has suggested that the BJP be prudent and take along its allies on the matter. It says it prefers Ms Swaraj as the face of the alliance.
Mr Singh had said in his interview that while
Narendra Modi
has never asked for "a bigger role... nobody can deny that he is among the most popular (leaders) and also the best performer (in the BJP)."