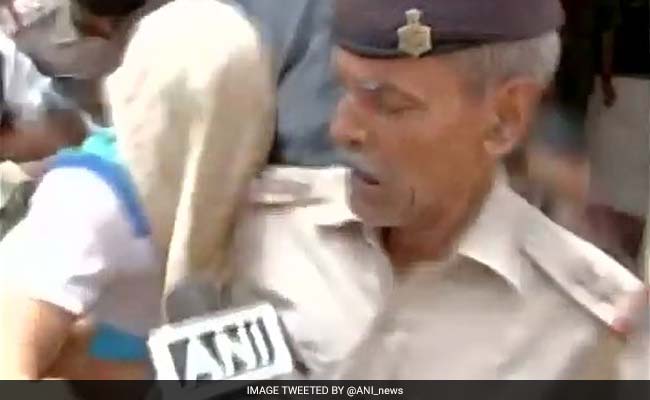 Highlights
Teni Yadav surrendered before a court in Gaya on Monday
Teni sent to 14 days judicial custody, was was present at scene of murder
19-year-old Aditya was allegedly shot dead by Rocky Yadav on May 7
Patna:
Teni Yadav, the cousin of Rocky Yadav who allegedly shot and killed a teenager in Bihar earlier this month in a road rage incident, surrendered on Monday morning in a court in Gaya.
Teni was purportedly present when
Aditya Sachdeva was shot dead for allegedly overtaking the car
belonging to Rocky, the son of suspended Janata Dal-United (JD-U) leader Manorama Devi.
Police were looking for Teni Yadav for a week since Rocky was arrested in Gaya and later his father Bindi Yadav. In a statement Teni has denied any involvement in the incident.
Aditya Sachdeva, 19, was driving home with friends in his Maruti Swift when he overtook Rocky Yadav's Range Rover on May 7.
His friends claim that 24-year-old Rocky then fired a warning shot from the SUV forcing them to stop.
Rocky and his co-passengers then allegedly beat up Aditya and his friends. When they tried to leave the spot in their car, someone fired from behind, killing Aditya. He died on the spot.
The Bihar police says Teni and Manorama Devi's bodyguard, also under arrest, were the only two eyewitnesses to the actual shooting and hence are very important to the case.
After evading arrest for two days, Rocky was arrested from Gaya. His mother Manorama Devi, a Member of Legislative Council of the JD-U,
has been missing since an arrest warrant was issued against her
on May 11 after a liquor stash was found at her house in Gaya when the police were searching for her son.
She faces arrest for violating the prohibition law in the state and has applied for anticipatory bail.
Chief Minister Nitish Kumar has denied that the incident is the latest in a snaking line of crimes that expose the "jungle raj" or return of lawlessness to Bihar, as alleged by the main opposition party, the BJP.