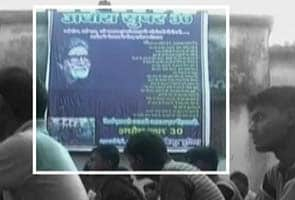 Mumbai:
Bihar Police has removed the posters containing Amitabh Bachchan's pictures today after megastar has threatened to take legal action against them saying the photograph has been used without his consent.
The posters were part of an educational program 'Adhaura 30' and were being used to educate the youths in the Naxal-affected district and wean them away from the Maoists' influence.
"Just read news about my photograph being used by Bihar Police .. This is illegal, no consent taken or given, lawyers in action now ..," Mr Bachchan posted on Twitter. The Bihar government too has issued a formal apology.
Kaimur district's Superintendent of Police (SP) Umashankar Sudhanshu said that the publicity material was used without prior consent of the 70-year-old Bollywood star and has been removed following the latter's tweet.
"We have removed the banner with Bachchan's poster from the only place in Adhaura block that it has been put up to educate the youths. I say sorry to Mr Bachchan for using his poster to motivate and educate the youths," Mr Sudhanshu told said.
The police authorities had no malafide intention in using Mr Bachchan's name and posters to educate the youths and said that it was done purely in public interests and not any commercial motive.
Kaimur police had decided to use the actor's name to educate rural youths in the backward and naxal-affect district since last month. Hundreds of youths, mostly semi-literate, had attended the educational and motivational programme organized by the Kaimur police in Adhaura district.
The posters inviting the youth to join the police and paramilitary forces say, "
Aap sapne dekhen, hum unhen saakaar karengey
(You see a dream, we will fulfill it)."
The district police authorities had planned to select 30 of the bright youths as 'Adhaura 30' on the pattern of 'Super 30' from among hundreds of them to educate them properly and enable them to excel in competitive examination.
The police authorities had proposed to extend the educational programme among the youths to other districts affected by the Maoists insurgency at a later stage.