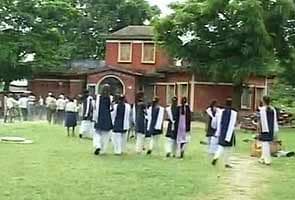 Chhapra:
As Gandaman village in Chhapra district of Bihar mourns the death of 23 children after having eaten their mid-day meal, there has been an unfortunate fallout of the horrific tragedy: children in government schools around the village have, since the fateful Tuesday, refused to take their meals in school.
NDTV visited one such school in Masrakh, only a few kilometres away from Gandaman, to witness firsthand the ramifications of the tragedy.
Six cooks in the school have been sitting idle for the past three days with the parents here refusing to allow their children to eat at the school. "Our parents feel that what happened in Gandaman could happen to us. They have asked us not to eat here because there could be poison in the food," says a girl.
When asked whether well-cooked, healthy meals were being served there, the children had a resounding "No" for an answer. They said insects and maggots have been found several times in the food supplies while the cooks working at the school were often found drunk.
The school in Masrakh, ironically called a 'model middle school' had a dilapidated look with the roof crumbling and the benches broken. Ankit, a class 8 student, said, "We sit on gunny bags. When we complain, our teachers beat us."
When asked whether he fears he may be reprimanded for speaking his mind, he says "All they will do is beat me more. But I have to speak the truth."
With fear and anger pervading across the district, the challenge of convincing parents to send their children to schools in Chhapra, already recovering from the death of 23 innocent children, has become even more difficult.