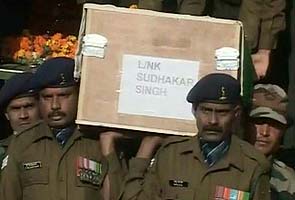 Sidhi, Madhya Pradesh:
Thirty-year-old Sudhakar Singh returned to his village today, not striding into his small home as usual, but in a coffin draped in the Indian Tricolour. His father collapsed as the martyred soldier's body reached the village in an Army vehicle.
Lance Naik Sudhakar Singh was one of two jawans killed by Pakistani troops near the Line of Control in Kashmir on Tuesday. At his Dadhiya village, in eastern Madhya Pradesh, his fellow-soldier Sandeep Singh, who accompanied the body, described the martyr's last moments. Sudhakar's last words before he fell prey to bullet wounds, were "Bharat Mata ki Jai (Glory to Mother India)," he said. He remembers the martyr as a great leader and good friend.
Lance Naik Sandeep Singh said Sudhakar was always the one who took the initiative in the group, guiding the rest. That morning too, he said, their small party of soldiers was on its way on routine duty, when Pakistani troops opened fire on them. Sudhakar Singh, he said, rushed ahead and fired back, bearing the brunt of the attack and saving the rest of the group. His buddy, Lance Naik Hemraj Singh was also killed.
The dreaded news of the young soldier's death was delivered to his family on Tuesday, within minutes of television channels reporting that the two jawans had been killed. Sitting on a chair, surrounded by family and well-wishers, his father said his brave son would tell him not to worry about his safety. "He would tell me, 'Death is inevitable for all of us'," Sachidanand Singh said, his voice uneven.
(Read)
At their home, the pride of place is reserved for a colour photo of Sudhakar Singh, in uniform, holding his rifle. The father of a 4-month-old baby boy had served in the Indian army for 11 years.
It was a poor farmer's life that compelled Sudhakar Singh to join the army, his brother says. "There was no money. Not enough to feed everyone. There was no choice. If we could afford it, we would have educated him more and forbidden him from joining the army."
His last letter to his father arrived in October last year. Sudhakar wrote that he was missing his family and wanted to visit home soon.
His friend, Lance Naik Hemraj Singh was cremated in his Shernagar village in eastern Uttar Pradesh's Mathura district, yesterday. Hemraj, 32, too left behind three very young chidren. His small village, which has sent 15 men to the armed forces, is fiercely proud of its brave son. Lekhraj Singh, Hemraj's uncle, who has served as a hawaldar in the Indian Army is proud that his nephew laid down his life in defense of the country. "Two of his companions came from Agra and gave the news that my nephew had lost his life for the country. We felt extremely sad that he is no more, but we are proud that he has become a martyr," he said