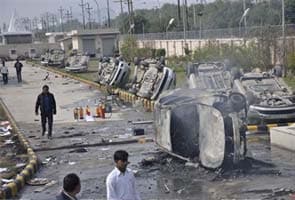 New Delhi:
The Uttar Pradesh police, badly outnumbered during violence and vandalism in Noida yesterday, were out in full force today, the second day of the Bharat bandh or strike. They have so far registered 64 cases and arrested 100 people, for the violence, which factory owners claim caused losses of about Rs 600 crore.
More police was deployed across the industrial belt and at least 50 locations, identified as sensitive, have additional forces. Authorities said they will ensure adequate security not just today but in the days ahead as well. As an attempt to restore confidence, the police conducted flag marches this morning. Schools were closed in Noida and Greater Noida as a precaution.
Police say those arrested are mostly young men; some have trade union links. "We conducted overnight raids in neighbouring villages as well. We took the help of CCTV footage and video evidence to round up those participating in yesterday's vandalism. Most of those arrested are in the age group of 19-25," OP Singh, Additional Director General of Police (NCR), told NDTV.
Industry body Assocham has estimated that total losses caused in the country by the two-day bandh will be a whopping Rs 26,000 crore.
The damage in Noida, an industrial township just 11 km east of Delhi, was extensive yesterday. Several factories and small scale units were attacked, 24 cars and a fire engine were set on fire; another 12 cars were smashed and vandalised.
Security cameras at a company that deals with surveillance equipment showed a group of 10 people a entering the building, smashing glass, breaking and picking up computers. One person in the mob even filmed the violence on his cell phone.
The factory owners claim that the police reached the sites of violence late.
The bandh has been near total in Uttar Pradesh and Kerala, while it got a mixed response in the national capital Delhi, where there are fewer autorickshaws on the roads on day 2 of the bandh, although government buses are running. In West Bengal, a determined Mamata Banerjee government has kept the situation far more normal than usually seen during bandhs.
The Bharat bandh has been called to protest against rising prices and disinvestment in public sector enterprises and to demand more jobs. Nine major unions are participating in the strike, including the Bharatiya Mazdoor Sabha, Indian National Trade Union Congress (INTUC), All India Trade Union Congress (AITUC), Centre of Indian Trade Unions (CITU) and All India United Trade Union Centre (AIUTUC).