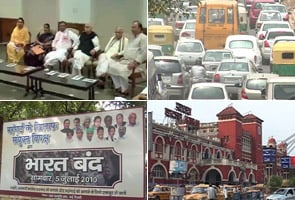 New Delhi:
The BJP and its allies have called for a
Bharat bandh
on Monday to protest against escalating prices.
Inflation is in double digits and fuel prices have risen since the government deregulated oil prices, and now the Opposition is taking what it says is the
aam aadmi
's protest on the streets.
If that's not all, the Left is also protesting against the fuel hike on Monday, demanding a rollback.
So far, there has been no impact on flights in Delhi, Mumbai and Patna; all flights are on time. New Delhi Railway Station is also unaffected.
But as the day progresses, the bandh could severely affect you, especially if you're in states where the BJP and the Left have a significant presence. (
Read: Pranab rules out rolling back fuel price hike
)
Authorities have prepared to take all security measures to ensure there is no untoward incident during the strike. However, essential services like milk, water and hospitals are exempt from participation in the bandh.
There will be a complete shutdown in Gujarat for starters where buses, cars and autos will be hit; most schools and colleges will be shut. Truckers will also stay off the roads.
In New Delhi, people could face some hardships in reaching their destinations as the workers of Opposition parties, including the Left and BJP, plan to block traffic in several parts of the city.
The four Left parties - CPM, CPI, RSP and Forward Bloc - will organise a protest demonstration at the busy ITO Chowk, which connects east Delhi with the heart of the Capital.
The Left parties will be organising protests at nine places in New Delhi while there will be three demonstrations in Ghaziabad and one in Noida. Out of the total 13 demonstrations by the Left, three will be organised by CPM alone.
BJP will also organise protests across the city. Party president Nitin Gadkari and former BJP president Rajnath Singh will take part in the main protest at Chandni Chowk.
Delhi BJP chief Vijender Gupta, meanwhile, appealed to managements to keep their schools closed on Monday and requested parents not to send their children to schools.
In Mumbai, the authorities have put in elaborate security measures. The police have even made some preventive arrests and there is extra security for trains.
"Anyone who takes law into their hands and attempts to paralyse the city shall be dealt with strictly," warned Mumbai Police Commissioner Sanjeev Dayal.
Also, adequate number of Railway policemen would be deployed at stations for smooth functioning of service, police said.
In West Bengal, there is bad news for fliers as private airlines, not wanting to take chances, won't be operating during the day.
In Rajasthan, markets will remain close on Monday to avoid any untoward incident. Also, the theatres will not screen films after 6 pm.
Andhra Pradesh state transport buses will not run on Monday to avoid vandalism.
Across the country, Opposition parties have called for a bandh on Monday against rising prices and the NDA is keen to get as many parties on board as possible. However, they have failed to put up a united front as both RJD chief Lalu Yadav and LJP chief Ramvilas Paswan have decided not to support the strike. (
Read: NDA meets to cobble up support for Bharat bandh
)
The participating parties are BJP, Shiv Sena, Samajwadi Party, JD(U), CPM, CPI, Forward Block, RSP, AIADMK, PMK, MDMK, TDP, BJD, JD(S), AGP, Akali Dal and INLD.
In an attempt to make Monday's strike a success, the BJP has decided to send its senior leaders out to various state capitals to lead demonstrations and protest marches. (
Read: Why PM could not control prices, asks Gadkari
)
The irony is, the strike is to protest the high prices the common man has to pay, but a countrywide strike will hurt many businesses run by the common man.
(
With PTI inputs
)